2014 Scripps National Spelling Bee: We Choose Our 5 Favorite Contestants
But, yes, we are 100 percent supportive of every child out there.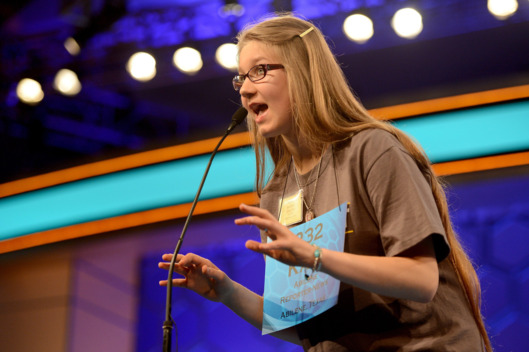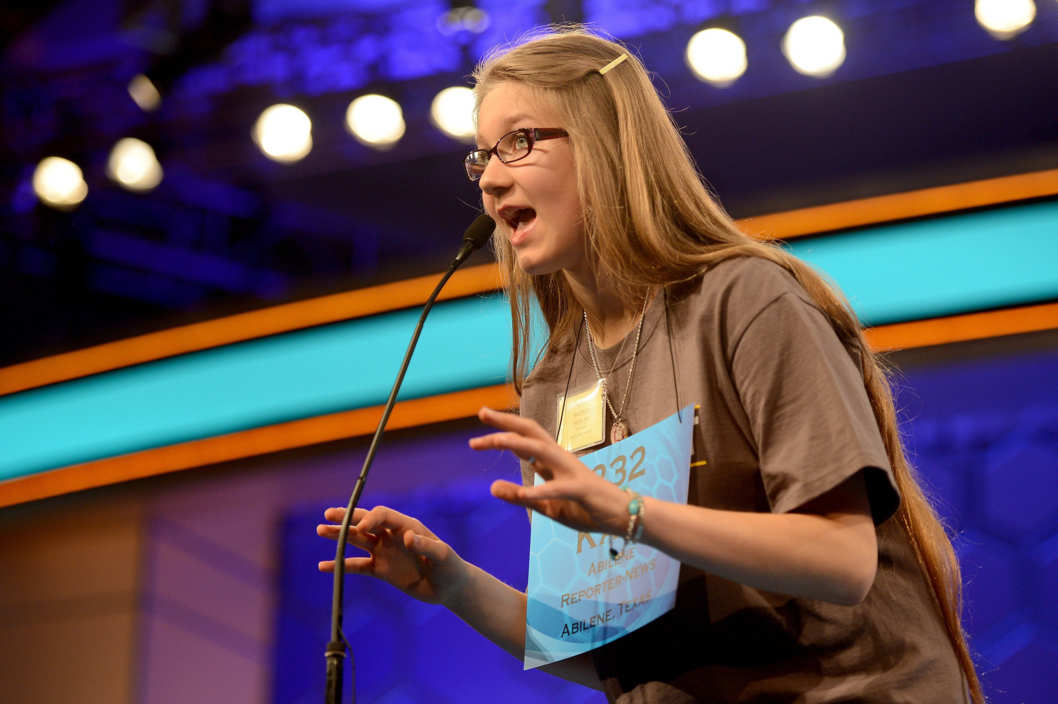 Tonight's the big night: The annual Scripps National Spelling Bee is back and there's a brand-new crop of brilliant young people to root for. Over the past few days, 281 spellers have been whittled down to a final dozen. In case you've been too busy to catch all those hours of competition, we've gone and picked our favorites going into tonight's finals.
Kate Miller - Speller No. 232
Age: 14
Hometown: Abilene, Texas
Coolest Word Already Spelled: weevil ("a type of beetle from the Curculionoidea superfamily")
Why She's a Favorite: Mind you, this is directly from her Scripps bio, but it's really all that you need to fall in love: "Film analysis, knitting Rodentia, and 'crafting irreverent travesties of pop songs' top Kate's list of hobbies." Plus, look at her face in this photo. Sold.
She's back up! Will Kate Miller "air type" again? She says it helps her remember the words. #spellingbee @ScrippsBee pic.twitter.com/xY8kF9fLjH

— Natalie DiBlasio (@ndiblasio) May 29, 2014
Jacob Daniel Williamson - Speller No. 38
Age: 15
Hometown: Cape Coral, Florida           
Coolest Word Already Spelled: harlequinade ("farcical clowning or buffoonery")
Why He's a Favorite: Right here: "In his free time, Jacob most enjoys playing fantasy sports, especially fantasy football." Plus! Bottom left:
Tajaun Gibbison - Speller No. 87
Age: 13
Hometown: Mandeville, Jamaica
Coolest Word Already Spelled: vigneron ("a person who cultivates grapes for winemaking")
Why He's a Favorite: Because LOOK AT THIS FACE. #TeamTajaun
Some of the spelling bee kids are so awkward but my dude Tajuan is a class act

— Daniel Ashenbaum (@theoneDbomb) May 29, 2014
Gokul Venkatachalam - Speller No. 139
Age: 13
Hometown: Chesterfield, Missouri
Coolest Word Already Spelled: perestroika ("the policy of economic and governmental reform instituted by Mikhail Gorbachev in the Soviet Union during the mid-1980s")
Why He's a Favorite: If you're looking to place real bets on this thing (maybe don't, though?), we'd recommend you go with Gokul: He tied for 10th place in the 2012 Bee and tied for 19th place last year. He's been here before.
With a bored expression that says "challenge me, please," Gokul Venkatachalam spells "morbilli," which means "measles." #spellingbee

— Ben Nuckols (@APBenNuckols) May 29, 2014
Ansun Sujoe - Speller No. 237
Age: 13
Hometown: Fort Worth, Texas
Coolest Word Already Spelled: laulau ("a Native Hawaiian cuisine dish, traditionally preparaed with pork in wrapped taro leaf")
Why He's a Favorite: You ready for this kid's pedigree? He has perfect pitch. He enjoys "playing chess, solving complex math problems and programming robots." And as a hobby, "he ministers to seniors in nearby nursing homes." He is also in the Spelling Bee finals, in case you already forgot.
Ansun is now taking a lead as my favorite spelling bee competitor. Kid has a dynamite sense of humor and can spell nearly anything.

— Clayton Kilgore (@kilgorecf) May 29, 2014