Vulture Festival: Watch Adam Scott Discuss the Lost 90210 Edition of Greatest Event
Rob Lowe as Jason Priestley. Elizabeth Banks as Jennie Garth. And Brian Austin Green as Brian Austin Green.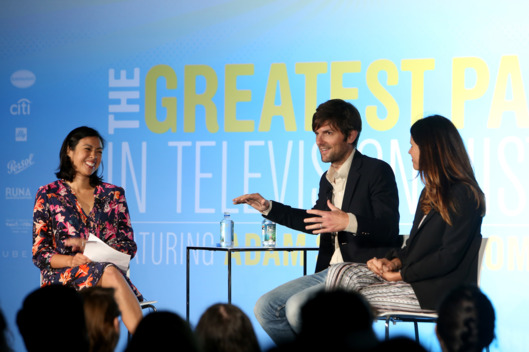 It was the greatest reveal at the Greatest Panel in Television History: Adam Scott and pals nearly re-created the amazing opening credits sequence of Beverly Hills 90210 as the third installment of the Adult Swim series The Greatest Event in Television History. Joined on stage by his wife and producing partner Naomi Scott, the Parks and Recreation star told Vulture's Denise Martin that the project had gotten far enough along that casting had even begun. Rob Lowe had agreed to play the Jason Priestley character Brandon Walsh, and we would have also gotten to see Elizabeth Banks as Jennie Garth's Kelly Taylor, Jon Hamm as Luke Perry's Dylan McKay, Chris Pratt as Ian Ziering's Steve Sanders, and Brian Austin Green reprising his role as Brian Austin Green's David Silver. Sadly, coordinating the schedules of so many cast members turned out to be a logistical nightmare, according to Adam Scott. "We ended up having to bail on it," he said, and instead shifted gears to reenacting the (awesome) Too Close for Comfort credits. Questions left unanswered: Would Adam Scott have played Mr. Walsh (James Eckhouse)? Who would have played Brenda Walsh (Shannen Doherty), Donna Martin (Tori Spelling), and Andrea Zuckerman (Gabrielle Carteris)? And is there any way we can still make this thing happen?