American Horror Story: Freak Show Will Include a Scary Clown
Can't sleep. Clown'll eat me.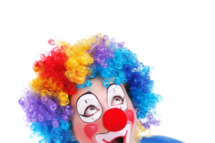 American Horror Story: Freak Show is scheduled to start filming this summer, and slowly but surely tidbits of info are starting to trickle in. We know Denis O'Hare will face off against Jessica Lange. Michael Chiklis will play Kathy Bates's ex-husband and Evan Peters's father. And Angela Bassett will not be playing the bearded lady, nor will she be playing conjoined twins. Now Ryan Murphy tells EW the show will be very creepy this season, à la Asylum. "It's turning out to be quite terrifyingly dark," he says. "But look — if you have a character named the Clown Killer, it's going to be dark." Murphy promises that "the Clown Killer" will be "the most terrifying clown ever," so it appears that this is a clown who kills, not someone who targets clowns as their victims. Though perhaps it will be both!