Dakota Fanning to Star in Brain on Fire Adaptation
Based on the memoir by New York<em> Post</em> reporter Susannah Cahalan.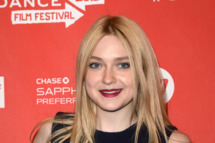 Charlize Theron's production company Denver and Delilah has optioned Susannah Cahalan's New York Times bestseller Brain on Fire: My Month of Madness, with Dakota Fanning attached to star. The memoir chronicles the author's temporary descent into insanity after contracting a rare autoimmune disease at the age of 24. Doesn't it seem like just yesterday that Fanning was 10 years old and starring opposite Denzel in Man on Fire? Now she's 20 and her brain is gonna be on fire. Kids grow up so fast these days.