Angelina Jolie and Brad Pitt Might Be Working on Another Movie Together
Details are almost nonexistent.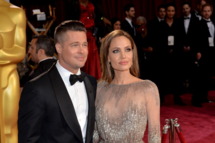 According to The Hollywood Reporter, "sources have confirmed" that the well-known couple will finally follow up 2005's Mr. and Mrs. Smith by doing another movie together. Details on the supposed project are almost nonexistent, but THR says that it's a script written by Jolie some years back, possibly a "relationship drama...centered on a couple with issues who take a vacation in a last-ditch effort to save their marriage." If this is true, then it's big news for everyone from US Weekly on up.