Cannes: Thank Julianne Moore's Kids for Julianne Moore Being in The Hunger Games
"Finish the books, mommy!"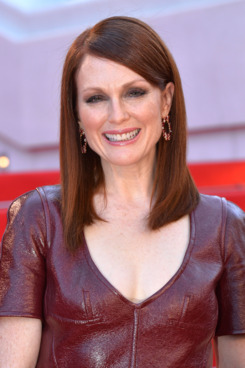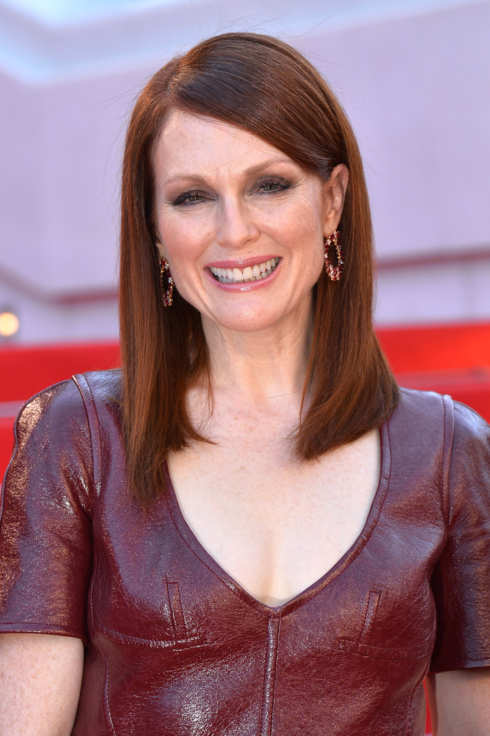 Thank Julianne Moore's relentless kids for their mother's role as President Coin in The Hunger Games: Mockingjay Parts 1 and 2. At a Cannes villa party for Calvin Klein and IFP Women in Film, Moore told me that she first learned about the dystopian young-adult series from her son Caleb, now 16. "Years ago he read Hunger Games when it first came out and he was, Oh, Mommy, there are these books that I really love, and I can remember when I bought Mockingjay because I was like, Look, here's the third one of the series that you like!"
Moore didn't read the books then, but when her daughter Liv was 10, two years ago, she started reading The Hunger Games. "We were on vacation in Mexico and I didn't have anything to read. She was playing ping-pong, so I picked up the book and I was like, Oh, this is great! And she was like, 'Finish the books, Mommy!' Because she likes me to read the things that she's reading. So anyway, I read them and I thought they were kind of amazing." Lionsgate released a still of Moore looking badass as President Coin, and Moore says it's made her a hero in her own household, at least. "It's been a great thing for my kids to have me in these," she says. "[Director] Francis Lawrence is tremendous. A really, really exciting filmmaker, so it's been a lot of fun."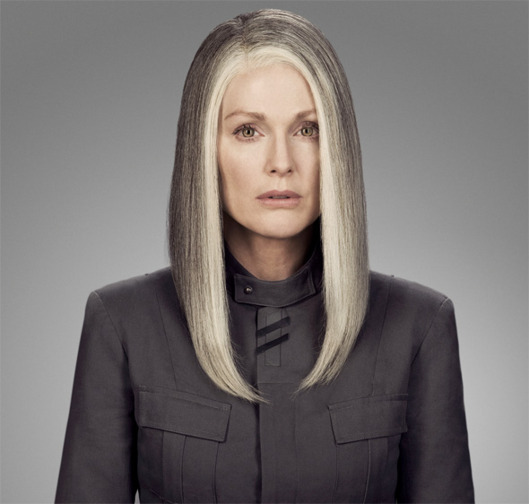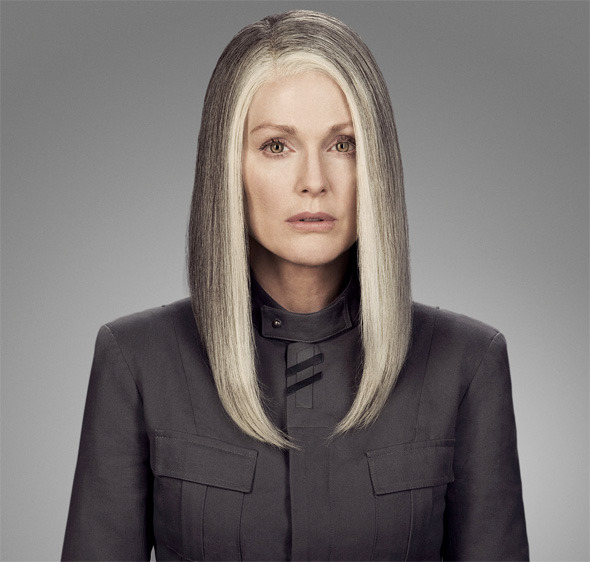 The most fun scene is one she doesn't want to "spoil," she says. "If you've read the books you probably know what happens, but there's a lot of people that haven't." Is it one toward the end? "Don't say it!"
 
Speaking of fun, she says that she had nothing but shooting David Cronenberg's Maps to the Stars, about the dark side of Hollywood, with Robert Pattinson. "He's such a wonderful actor, and a wonderful person," says Moore. She says she signed on because "I've always been a fan of David's work. A huge, huge fan. I was so delighted that he asked me to participate in this film, and Bruce Wagner wrote such an amazing script, and it's so funny and apt and touching." She plays an aging actress who's losing parts, and from what we can see in the trailer, seems to be using the mysterious powers of her new, disfigured, spirit-child assistant (Mia Wasikowska) to bring down her rivals. "These people are so kind of desperate to be seen, to be noticed, to be heard," says Moore. "But David really presents it in a truly extraordinary way."