Matt Smith Cast in Terminator
Let the <em>Doctor Who</em> crossover begin.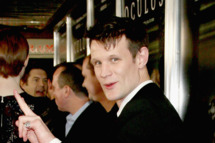 Doctor Who's Matt Smith has joined the cast of the revamped Terminator franchise, opening the door for all kinds of robot-battling crossovers. (Daleks saying "ex-terminator"? Just spitballing here.) According to Deadline, he's been cast in "a major role that will grow in the second and third films." T5's cast is just about set at this point: Emilia Clarke is playing Sarah Connor, Jason Clarke is playing John Connor, Jai Courtney will play Kyle Reese, and Arnold Schwarzenegger is playing a cop who goes undercover in a kindergarten classroom.