Adam Scott Discusses His Upcoming Movie About the Playdate From Hell
He tells Vulture about <em>The Overnight</em> and teases his upcoming Vulture Fest event, the Greatest Panel in Television History.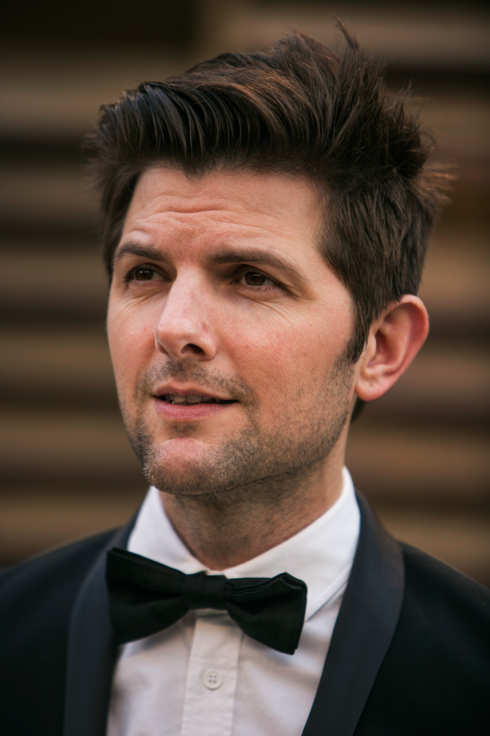 If Vulture were some sort of moviemaking mad scientist instead of merely a pop-culture website, we could be counted on to concoct a film like Patrick Brice's The Overnight, which just finished shooting a few days ago. It stars two of the leads of our favorite shows — Parks and Recreation's Adam Scott and Orange Is the New Black's Taylor Schilling — and throws them into a fraught comic situation with two more people we love, Jason Schwartzman and Judith Godreche. "It's the story of a couple who's new to Los Angeles, and they're sort of desperate for a social life and friends," Scott told Vulture today. "Their son ends up having a playdate with this other couple's son, and they spend an increasingly bizarre evening with this couple." How bizarre? Scott promised us some penis-size battles between the two men. Tell us, dear reader: Who would you back in that fight?
As for co-star Schilling, Scott said, "She was just a dream to work with. When you're making a tiny movie like this, you hope that everyone involved understands that you're not going to be in the lap of luxury, and she was cool as can be." That was a relief for Scott, especially since the movie was produced by his own company Gettin' Rad (as well as Mark Duplass).
With that movie wrapped, Scott is busy gearing up for next weekend's Vulture Festival event, the Greatest Panel in Television History, at which he and his wife, Naomi, will dissect The Greatest Event in Television History, their trio of Adult Swim specials that found Scott and famous friends painstakingly recreating the opening credits sequences of classic television shows. (Buy tickets now!) "The fact that people would want to come and listen to us talk about it is intensely flattering, but also really strange," said Scott. "I still don't know why we made these things! Maybe that's the reason I'm doing Vulture Fest, so I can figure out why I got my friends to do these."
And we couldn't let Scott go without asking him about the big three-year time jump in Parks and Recreation's season finale. "It was a tough secret to keep," said Scott, who said that creator Mike Schur let the cast discover the twist organically: "When we all read it at the table read, there were audible gasps, and we weren't sure if Mike was just playing a joke on us or if we were actually going to do this. I'm thrilled with it and I think it's gonna be really fun next season. And being a Battlestar Galactica fan — which I know Mike is too — I thought it was a fun tip of the hat to when they did it."