Paul McCartney Cancels Entire Japan Tour
The Beatle caught a bug.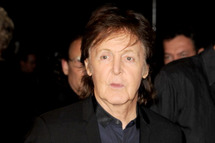 Sad news for Paul McCartney fans over in the Land of the Rising Sun: The former Beatle has been forced to cancel his entire Japan tour due to illness. On Saturday night, McCartney said he had contracted a virus and would be rescheduling the tour's opening night. Now it has been announced that all dates will be postponed indefinitely. "I'd like to thank my Japanese fans for their love, messages of support and understanding," McCartney said in a statement Tuesday. "I hope to see you all again soon." Get well soon, Sir Paul.