Stephen Colbert Talks Network and the 'Anger of Conservatives'
Like everyone on TV, he's "wanted to move people like Howard Beale does."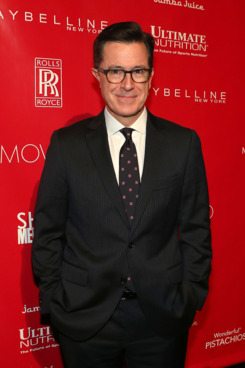 Stephen Colbert was considering Howard Beale, the Network newsman turned "mad prophet" who led thousands of TV viewers to get up out of their chairs, open their windows, stick their heads out, and yell, "I'm mad as hell and I'm not going to take this anymore!"
"Everybody who's ever been on television, or been on something like a news show," Colbert said with a wry smile, "has wanted to move people like Howard Beale does, and get everybody to do what you want them to do."
The big thing Colbert will want viewers to do, in the fall of 2015, is follow him from Comedy Central to CBS, where he will drop his right-wing blowhard "Stephen Colbert" character and take over the Late Show from David Letterman. But all that was a long ways off on Saturday night, as Colbert took the stage at the Montclair Film Festival after a screening of Network to describe his love for the 1976 satiric classic – even citing details of the Mad magazine Nutwork parody.
Colbert lives in Montclair, and his wife, Evie, is vice-chairwoman of the board of the three-year-old festival, all of which contributed to the charming glimpse of his off-camera personality – smart, quick, and without pretense. His hair was unslicked, his glasses were a professorial tortoise-shell style, and his manner was more starstruck movie geek than media star. "How many people had seen Network on a big screen before?" Colbert asked, surprised that roughly half the sell-out crowd of 500 raised its hands. "You're kidding! I had never seen it on a big screen before! I've always loved the darkly comic aspect of it, but I didn't imagine a roomful of people would be laughing!"
Perhaps the funniest post-movie line belonged to Dave Itzkoff, who wrote Mad As Hell, a book about the making of Network, and who shared the after-screening discussion with Colbert. Was the movie prophetic, Colbert asked? "It's the story of a man who developed a certain voice that allowed him to reach an audience – and then as soon as he got the opportunity to move on to a different show, he just dropped that persona at the behest of his corporate master," Itzkoff said – talking about Beale, mostly, though Colbert instantly got the joke. "That's an interesting take," Colbert said, mock serious, as the audience roared.
Colbert was particularly struck by how media and political valences have shifted since the '70s. "Faye Dunaway's character says, 'I want angry, countercultural shows.' But the angriest shows today are conservative shows," he said. "That's what I model – the anger of conservatives, or people who believe in the status quo, or they're afraid it's going to change. But the anger [in the '70s] was, fear that something wasn't going to change."
Colbert comes out of an avant-garde theater and comedy background, and he's done some politically daring work – testifying at a Congressional hearing on immigration, torching President George W. Bush in a brilliant White House Correspondents Dinner appearance – as well as mildly subversive, audience-participation stunts while at Comedy Central: Launching a Super-PAC called Making a Better Tomorrow, Tomorrow and leading, with Jon Stewart, the Rally to Restore Sanity and/or Fear. He's got more than a year to figure out how to make the Late Show his own – but when he sheds his Colbert Report character, it will be fascinating to see if Colbert hangs on to a little bit of his Howard Beale edge. Well, without the hearing voices and passing out on stage parts.