TBS Axes The Pete Holmes Show
Sigh.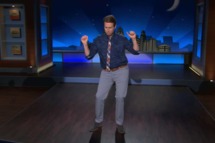 TBS has canceled The Pete Holmes Show after a scanty 80-ish episodes, according to The Hollywood Reporter. Bummer. The late-night series was a little wobbly out of the gate last fall, but it had so much promise — at least it had enough promise that TBS ordered 13 more weeks of it in January. But sadly for fans of Street Fighter humor, the show's June 19* episode will be its last. TBS recently renewed Conan O'Brien's contract through 2018, so at least one spot is stable in the wild, wild world of late-night shake-ups.
* This article previously stated the wrong date for the final show; it's June 19, not June 5. Still canceled, though.