Who Is Vitalii Sediuk, the 'Journalist' Who Attacked Brad Pitt? A Timeline of His 'Pranks'
He's the same guy underneath America Ferrera's gown.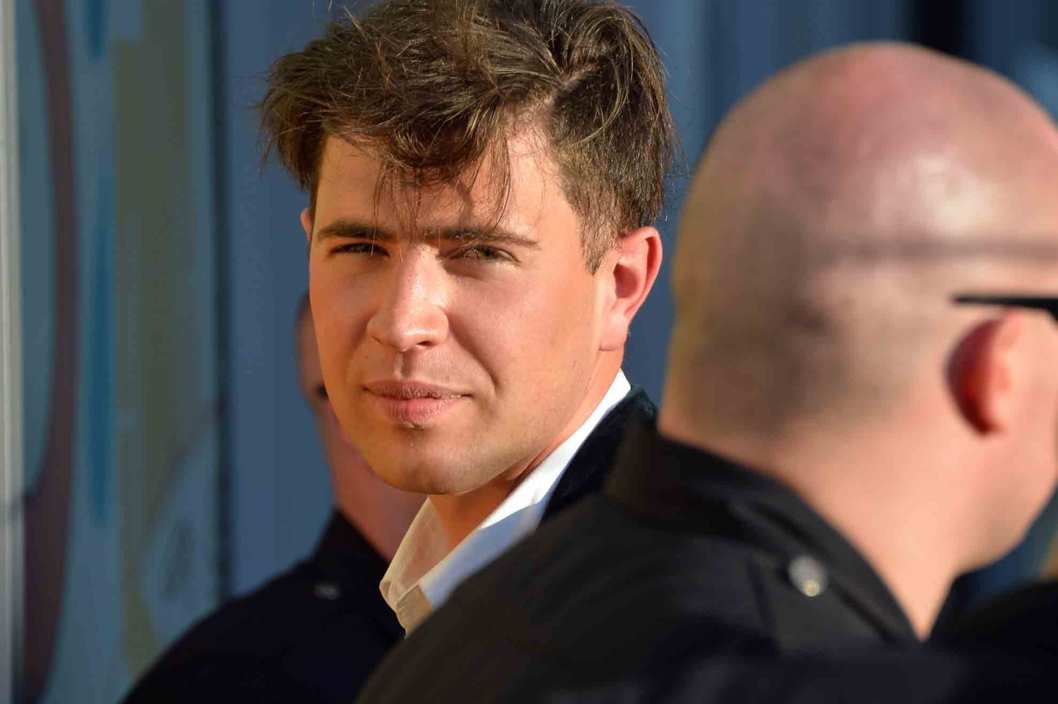 When you hear that someone attacked Brad Pitt on the Maleficent red carpet, your first instinct is to wonder if Pitt's okay (he is!), and your second is to wonder who would do such a thing. Apparently it was another in a long line of stunts by Vitalii Sediuk. The now-25-year-old Sediuk first moved to this country to work as a correspondent for the Ukrainian channel 1+1, but quickly became better known for his "pranks," which could be best described as Borat without the wit or satire, but with a much more of a desire to be famous. Here is a brief rundown of his behavior:
September 2011: Sediuk, saying he is a fan, hands Madonna hydrangeas at a press event. Madonna, not realizing she's miked up, whispers, "absolutely loathes hydrangeas." As Sediuk had hoped, this clip went viral; he knew Madonna hated and was allergic to that type of flower.
May 2012: Sediuk tries to kiss Will Smith at the Moscow premiere of Men in Black 3. Smith slaps him.
February 2013: Sediuk crashed the Grammy Awards ceremony, sitting in Adam Levine's seat when the singer showed up late. While Adele was accepting her award for Best Solo Performance, Sediuk jumped up onstage and got shooed away by Jennifer Lopez. As a result, he was banned from L.A. Live, a massive complex home to the Staples Center, the Nokia Theatre, and many big events. He was able to avoid up to six months of jail time, thanks to a lawyer. His attorney Anthony Willoughby told The Hollywood Reporter, "If he stays clean for three years, he'll be able to withdraw his plea and the charges will be dismissed."
February 2013: Sediuk tried and failed to crash the Oscars wearing a very timely swan dress and carrying a bucket of fake Oscar statues. The police stopped him before he could get on the red carpet.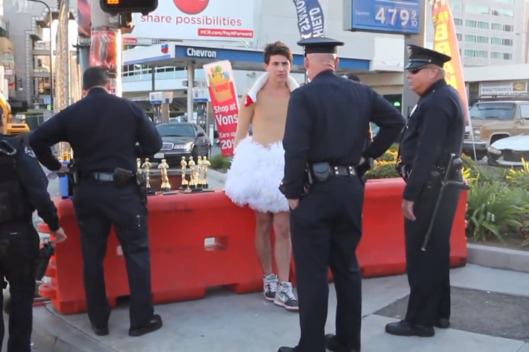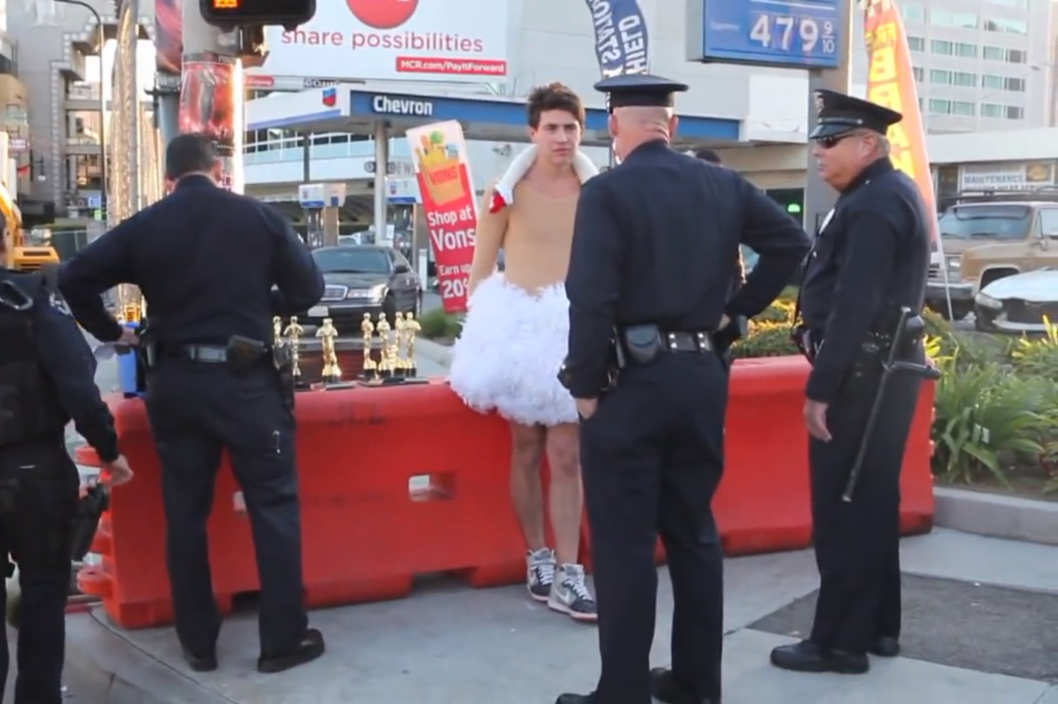 January 2014: On the Screen Actors Guild Awards red carpet, Sediuk grabbed onto Bradley Cooper's leg like a koala bear.
February 2014: Always keeping it fresh, he did the exact same thing to Leonardo DiCaprio at the Santa Barbara Film Festival.
May 2014: Wearing his influences on his sleeve, Sediuk wore a pink version of the Borat bathing suit and tried to crash the Met Gala.
May 2014: At the Cannes premiere of How to Train Your Dragon 2, Sediuk crawled under America Ferrera's gown.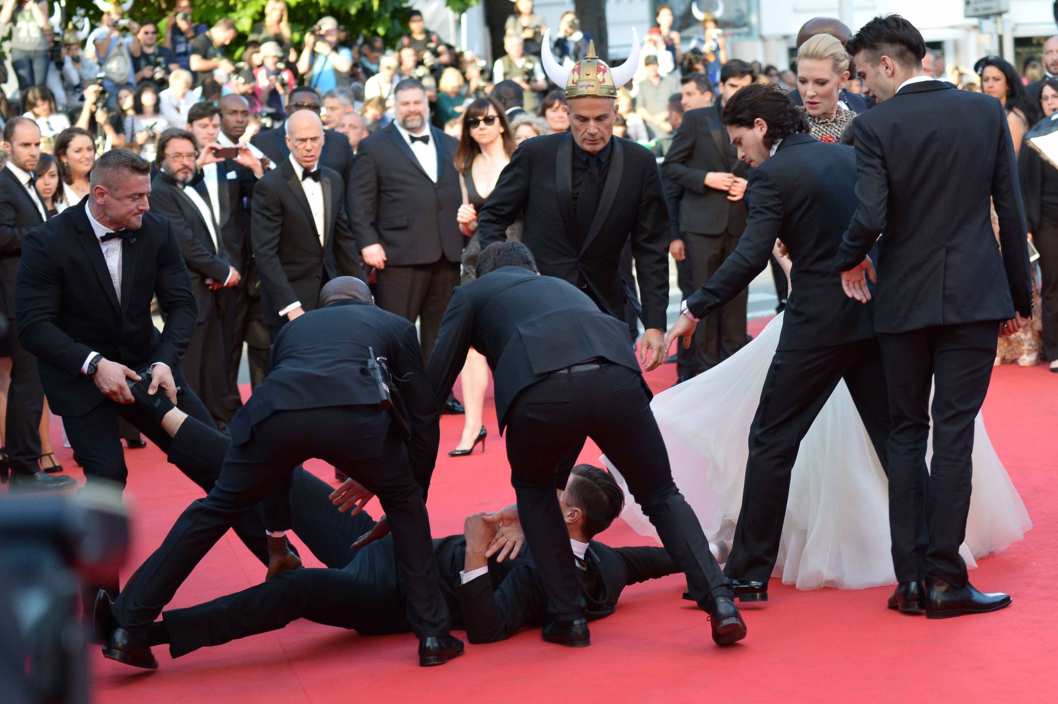 Sediuk says he wants to become an actor and director. Here is a trailer for a short film he made based on his experience with Madonna.
He is the worst.