Andrew Rannells Is Your New Hedwig
He'll take over for NPH at the end of August.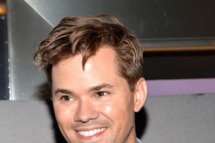 Andrew Rannells will replace Neil Patrick Harris in the leading role in Hedwig and the Angry Inch, the show's producer tells the Times. Rannells, who was nominated for a Tony for The Book of Mormon and also plays Elijah on Girls, will put on some makeup, turn on the tape deck, and pull the wig down on his head for an eight-week run starting August 20. (NPH's last show will be August 17.) It's not clear yet who'll take over after Rannells is done, but one thing at a time, folks.