Best of Netflix, Amazon, and Hulu Streaming: Soccer Movies
Watch these in between World Cup matches.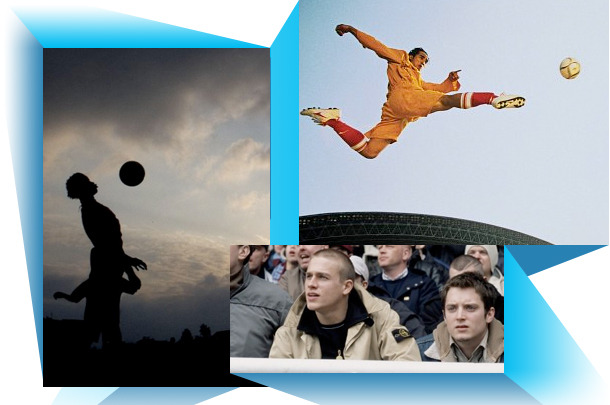 This weekend, you can watch a bunch of World Cup matches or you can pick one of approximately 14 billion movie options available to stream over a variety of services, be it Netflix, Hulu, Amazon, On Demand, or other sites. Every Friday, Vulture tries to make life easier by narrowing it down to a handful of heartily recommended options. This week, a football fantasy from Hong Kong's wildest director, a documentary spotlighting the sport across the globe, and a soccer movie the whole family can enjoy.
Pelada
Brazilians refer to pickup football games as pelada, the Portuguese word for naked. The games are disconnected from the outside world, free to just be simply about the moment. When college soccer stars Luke Boughen and Gwendolyn Oxenham failed to make it to the pros, they decided to explore pickup culture across the globe. The travelogue follows the duo to Brazil, muddy fields in South Africa, an inner-city space in Tehren, a Bolivian prison yard, and a Jews vs. Muslims match in Israel. Pelada avoids the romantic notion that football solves the world's problems. Instead, we see the sport functioning on a personal level. The thrills of a soccer match are universal. (Stream on Amazon Prime, Snagfilms, Rent on iTunes, Amazon, Xbox)
Green Street Hooligans
The Lord of the Rings movies emasculated Elijah Wood. It wasn't his fault — after spending time with the ring, Frodo devolved from child prankster to feeble courier relying on Samwise's piggyback rides. His 2005 follow-up, Green Street (bolstered with the "Hooligans" for its American release), is a vicious, comical, stirring left turn. A breakout for Lexi Alexander — one of the few female directors allowed through the doors of the superhero movie boy's club (she killed it with Punisher: War Zone) — the film follows an American transplant (Wood) who falls face-first into the world of football hooliganism and post-match brawling between opposing fans. Charlie Hunnam plays Wood's fisticuffs mentor, a charismatic, bloodthirsty precursor to his Sons of Anarchy days. (Rent from iTunes, Xbox)
Shaolin Soccer
Remember Sega Soccer Slam, a game that went from a FIFA knockoff to Super Mario Bros. at the drop of one power up? Super-strength, laser blasts, flaming soccer balls — the sports game for someone who isn't really into sports games. That's basically Stephen Chow's Shaolin Soccer, which grafts the kung fu hero quest onto a soccer championship match. CG is a defining element of Chow's style, turning him (he's also the lead) into a living cartoon character capable of Dragon Ball Z moves and Wile E. Coyote slapstick. Shaolin Soccer manages to deliver on all those promises and still be a fulfilling, underdog sports tale. (Stream on Netflix, Rent from iTunes, Vudu, Amazon, Xbox, Target Ticket)
The Big Green
From the same marketing wizards that birthed The Mighty Ducks and an Angels in the Outfield remake came this lesser-known, kid-centric soccer comedy. Steve Guttenberg fills the Walter Mattheau–Bad News Bears coach role, teaming up with a Brit (Olivia d'Abo) to teach a ragtag team of losers how to out-maneuver the local douchebag rich kid team (the black uniformed "Knights," natch). The movie's decidedly wackier than its predecessors, more Pete & Pete than Rookie of the Year. With studios slathering most family comedies with cynicism, The Big Green still manages to score. (Stream on Netflix, Rent on iTunes, Vudu, Amazon, Xbox)
Bend It Like Beckham (Rent from iTunes, Vudu, Amazon, Xbox)
Goal! (Rent on iTunes, Vudu, Amazon, Xbox, Target Ticket)
Gregory's Girl (Stream on Netflix, Amazon Prime, Hulu, Rent on Amazon)
Kicking & Screaming (Rent on iTunes, Amazon, Google Play, Xbox)
Once in a Lifetime: The Extraordinary Story of the New York Cosmos (Rent on iTunes, Vudu, Amazon)
Playing for Keeps (Stream on Netflix)
The Two Escobars (Stream on Netflix, Amazon Prime)
Victory (Rent from iTunes, Vudu, Target Ticket)