Better Call Saul May Have a Walter White Cameo
The show will have a "flexible" timeline.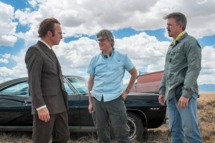 Yet another reason to be excited about AMC's forthcoming Breaking Bad spin-off: Today, executive producer Peter Gould told the Daily News that Better Call Saul will likely have a non-linear timeline that moves back and forth across several decades, intersecting at times with the events of Breaking Bad — so there is probably a Walter White cameo somewhere in the show's future. "One of the great things about having a time line which is flexible is that perhaps some of it takes place before Breaking Bad, during Breaking Bad, and after Breaking Bad. That gives us the ability to bring back characters that were killed on Breaking Bad," said Gould. Now that's how you pander to your audience.