'And I Am Outta Here ...': Dennis Miller's 5 Fondest 'Weekend Update' Memories
The former <em>SNL</em> star and recent Vulture pick for best &ldquo;Weekend Update&rdquo; anchor ever looks back.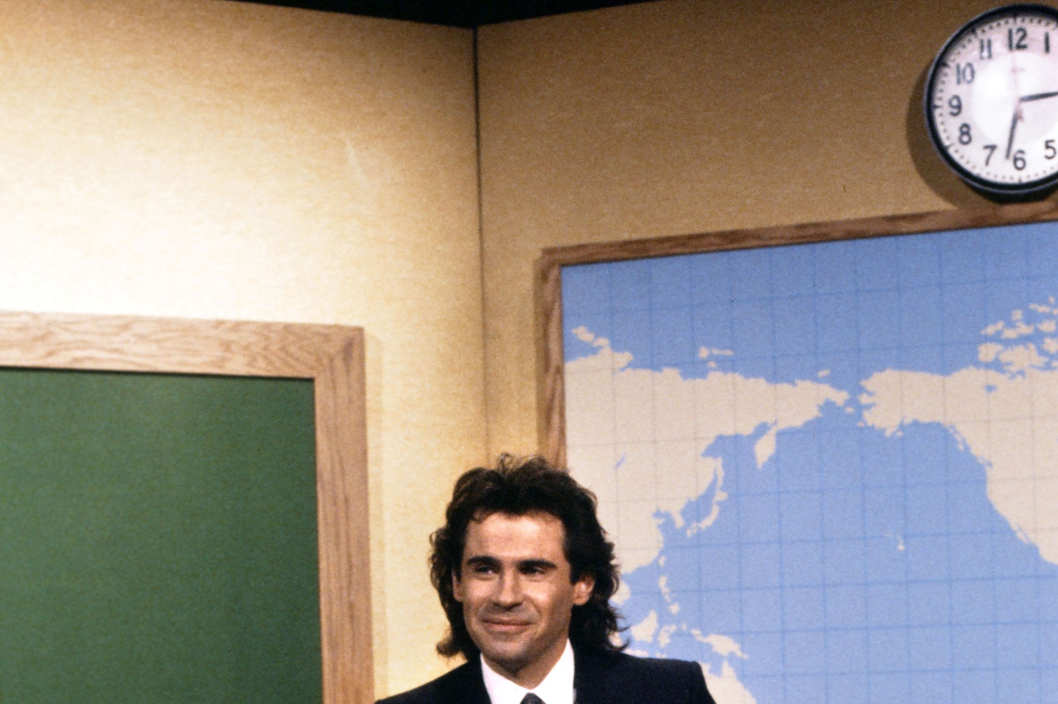 Vulture recently did a complete ranking of "Weekend Update" anchors, and coming in at No. 1 was Dennis Miller, who doesn't spend a lot of time revisiting his days at 30 Rock, preferring instead to focus on current events and interviews on his daily satellite-radio show. But the rat-a-tat conservative took a break from promoting his new stand-up special, Dennis Miller: America 180° (premiering on EPIX on June 13 at 8 p.m. ET), to recall the moments that stand out from his six years behind the "Update" desk.
"I'm not saying it was Candide."
"The first night I did 'Update' ... you know, you're kind of in low-level shock when you do that gig. You're a comedian who's been brought in from the road. It's like John le Carré or something. All I remember thinking the whole week before I did the first one was, My God, Chevy Chase did this. ... that was the person in my head. Then I did my first one, and I'm not saying it was Candide, but I got out alive, did okay, got a couple of laughs. You realize how bright the lights are. You can't see when you step off the stage, and I felt an arm around my shoulder. It's Chevy Chase, and he's saying, 'I'm glad you're here now, man, you did a good job.' Pretty mind-bending for a guy who's basically a road comic at that point. He and I would have chats about ['Update'] after, and he'd tell me to be more news-anchor-y … always in a nice way, but I'd say, 'You know, Chevy, I'm just trying to get laughs.'"
"It's Fla-nay-gan."
"I flew in with Jon Lovitz to do the [SNL] audition. I remember thinking, Well, I'll feel out the rest of the people and see what they're bringing to the game. Lovitz tells me he has this character called the Pathological Liar. And when he elaborates … it isn't as good as seeing it. I thought, Well, this guy's exhibiting a limp on the Serengeti. He can be fed on. I can take this guy. Cut to: I don't get hired, Jon gets hired, and they wanted him to do the news. But he's in so many things that he can't do the news, he needs the news [time] for hair and changes. So then I get hired a little later. He comes up in one of the first newscasts to do the Pathological Liar. At dress rehearsal, I say, 'Here's the President of Pathological Liars Anonymous, Tommy Flanagan.' Between break and air, Lovitz grabs me and he says, 'No, no, this is very key: It's not Flanagan, it's Fla-nay-gan.' Can't you see? He even has to lie about the a in a common name like Flanagan!' That always stuck with me, John's insight into comedy. I'm not a sketch guy, he is, [but] those little nuances. I don't want to make too much of it, but it's the very sinew of the bit."
"That is a great Bowie song."
"I used to start 'Weekend Update' with a rock-and-roll song that would try to hit the ground running. So one time Vanilla Ice was on, and that night he played his Vanilla Ice song [hums opening of "Ice Ice Baby"] and I was just sitting there apoplectic, since I'm a Bowie fan, watching this guy with a fade, you know, of ancient Aztec cave-wall drawings on his sideburns do this. So I opened the news — which happened two minutes later — with Bowie's song ["Under Pressure"]. And then the crowd went crazy because they knew what I was doing. Then I said, 'That is a great Bowie song. I bet you somebody copies that one day.' [Laughs.] I don't know the kid's name — Chris, maybe? [Editor's note: It's Rob Van Winkle.] — but at the end of the show, when we're all standing onstage, he came up and shook my hand and said, 'You got me.' So he was at least cool about it."
"Three of us dressed as me."
"Two of my dearest friends in the world are Tom Hanks and Dana Carvey. And to be up there one night, all three of us dressed as me, singing 'Jingle Bells' in Dennis Miller wigs, was certainly a fun memory for me. I think I have a picture of that somewhere. I don't usually get too nostalgic, but I love Tom and I love Dana. We're still best friends in life, so remember us up there, getting paid to put wigs on like me and sing attitudinal Christmas songs? That's fun."
"Nobody cares."
"Bill Murray's Oscar [predictions] thing was always my favorite when I'd watch Saturday Night Live, before I ever thought of being on it. When he would just clear the entire section out for Best Supporting Actress and go, 'nobody cares.' Nothing made me laugh harder. [Breathless laughing.] So to be sitting at the 'Update' desk when he pulled that board up, it was a great joy for me … and, indeed, he got to Best Supporting [laughs]: 'Nobody cares.' My God, when I watched this bit at home, I never thought I'd get to be here."