Truck Driver in Wreck That Injured Tracy Morgan Released on Bail [Updated]
Morgan's rep says that the comedian will be in the hospital for a few weeks.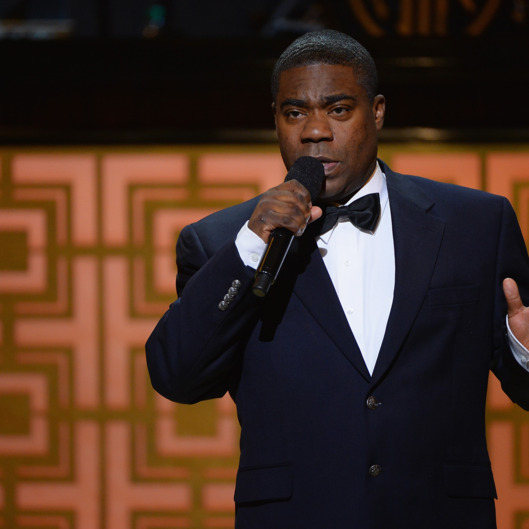 The driver of the Walmart tractor trailer that slammed into the back of Tracy Morgan's limo bus early Saturday morning turned himself in to the New Jersey State police on Saturday night. After posting $50,000 bail, 35-year-old Kevin Roper was released, having been charged with one count of death by auto and four counts of assault by auto. The cops believe that Roper was "dozing" and didn't notice that the traffic in front of his 18-wheeler had slowed until it was too late. "When the driver of the truck suddenly became aware of the Mercedes Sprinter limo bus in front of him, he swerved left to avoid it, but struck the limo bus in the rear and then hit another vehicle," ABC News reports. The limo bus then hit a second car, a pickup truck, and another tractor trailer. 
"I just remember the impact," Morgan's driver, Tyrone Gale, recalled. "We didn't know which way was up, which way was down. I don't know if we flipped several times or one time. I saw the condition of everybody and I knew it would just make it worse if I tried to pull them up and out of the vehicle." Morgan's mentor, James McNair (known as Jimmy Mack), was killed in what turned into a six-vehicle crash. Morgan remains hospitalized in critical condition, as do his assistant, Jeff Millea, and fellow comedian Ardie Fuqua.
Update: On Saturday afternoon, Morgan's rep released this statement to THR: "While Tracy remains in critical condition, he has been more responsive today, which is an incredibly encouraging sign. He sustained a number of injuries including a broken leg, a broken femur, a broken nose and several broken ribs. He had surgery earlier today on his leg. We expect him to remain in the hospital for several weeks. His family is tremendously overwhelmed and appreciative of the outpouring of love and support from his fans."