FX Addresses the Future of Tracy Morgan's FXX Show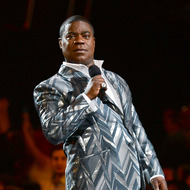 In April, FXX ordered ten episodes of an untitled Tracy Morgan project produced by the It's Always Sunny in Philadelphia guys. Production was supposed to start in August, with an intended January 2015 premiere. However, after Morgan's recent accident, delays are expected. FX released the below statement about the show's status.
"The only thing we are concerned with is the health and recovery of Tracy Morgan and the victims of this tragic accident. We will support Tracy and his family in every way possible throughout his recovery. At the point when Tracy has recovered and decides that he is ready to go back to work, his show will be waiting for him. Right now our thoughts and prayers remain with Tracy, the other victims of the accident, and their families."
Photo: Ethan Miller/Getty Images