Inside Amy Schumer Renewed for Third Season
And <em>Review</em> will be back, too!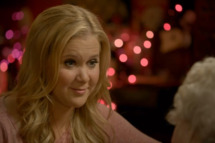 The brilliant, provocative, hilarious, and filthy Inside Amy Schumer has been renewed for a third season, Comedy Central announced today. The network also renewed Andy Daly's terrific Review and the animated series TripTank for second seasons. Hooray! No one wants a show to repeat itself too much, but seriously, our kingdom for another Schumer segment that beautifully and masterfully parodies Aaron Sorkin. There's a whole upcoming season of Newsroom that's going to need skewering, and Amy Schumer is clearly the one to do it.