Kit Harington Wants a Dragon to Call His Own
"<span>I&rsquo;d want Viserion. No, wait &mdash; I&rsquo;d have Rhaegal.</span>"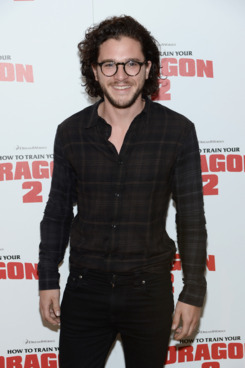 Why should Khaleesi be the one with all the dragons? If Daenerys is ever inclined to let someone adopt one of her "children," Game of Thrones' Kit Harington already has his eye on which one he wants, as he told us at Wednesday's Cinema Society screening of How to Train Your Dragon 2. "I'd want Viserion. No, wait — I'd have Rhaegal. He's the green one. I'd have the green one. He just kind of takes my fancy. Certainly, Jon Snow should have a black one. That would suit him best, because he's from the Night's Watch, but I guess I'll let Dany keep him. That's her baby."
Harington plays a dragon trader in How to Train Your Dragon 2, but he's a little envious of all the folks who actually get to take their dragons out for a spin. If Harington had a "fire-breathing, scaly, flying creature" of his own, his first order of business would be to "go for some flying lessons — flying on the back of a dragon would be awesome!" He assumes Jon Snow would be very practical with any dragon he might acquire — "take it to the Wall, use it as a tool to fight the White Walkers, help make a bunch of dragonglass." But Harington wouldn't use a dragon as a tool or a weapon. "I have no desire to go and conquer other people," he said. "I'm quite happy to just try and sort out who I am first." His idea of how to have fun with a dragon would be to have a big enough place where you could just keep your dragon pal in the garden. And then you could tell your human pals, "Hey, do you want to come see my dragon?" "That's what I'd do," he laughed. "Frisk around with it in the garden for a while."
 
"Usually, dragons are portrayed as threatening, aren't they?" he added. "And that's what [How To Train Your Dragon 2] is built on, the idea that dragons are misunderstood, like a lot of animals are misunderstood. I like that premise. And it's kind of the same premise with Khaleesi. Her dragons  [are] fierce, and they can be used as a tool for her, but they're her babies. They're not threatening things to her." For his own sake, Harington would prefer not to have a baby dragon — no raising dragons for him. "I'd have a dragon exactly my own age, 27," he said. "Just like in How to Train Your Dragon, when Hiccup finds out Toothless is exactly his own age. That's why they bonded so well! So we'd have that." Bonus when it's already an adult — no messy dragon diaper stage.