Lana Del Rey Is a Karaoke Lover's Dream
Because she is the perfect subject.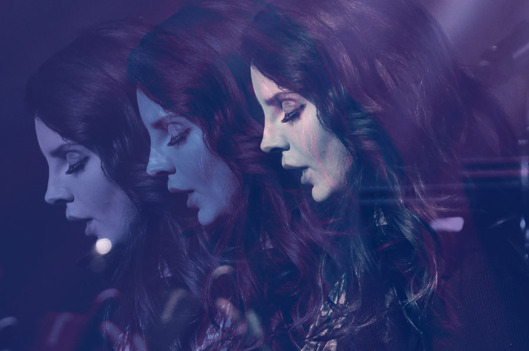 I first felt truly connected to Lana Del Rey after singing one of her songs, out loud, in public. In a cab on the way to Reykjavik's only karaoke bar ("Karaoke SportBar," in case you find yourself in Iceland), I heard "Video Games" on the radio. It was the first time I had experienced it outside of my constant replaying of YouTube clips embedded on Hipster Runoff. Serendipitously, Karaoke SportBar had it in their song book, and as soon as I started singing, it became more of a performance piece (art!) than any thing I'd done before or since. And it wasn't all because of me. With karaoke, there's nothing better than when a song goes from predictable to something truly unexpected and magical. Despite my own vocal shortcomings, lyrics like these ("I say, "You the bestest" / Lean in for a big kiss / Put his favorite perfume on") made "Video Games" a perfect karaoke choice for me. It's chock-full of glamour. There's something theatrical about it. But yet it's pliable, the sonic equivalent of one of those carnival-style cardboard cutouts: Anyone could easily stick their face in.
Since then, I've done Lana a few times: "Summertime Sadness" (not the EDM remix — be careful when choosing that one) while sitting at a bar with four strangers, "Born to Die" in front of a slightly larger crowd onstage at a dive bar, "Young and Beautiful" in a private room soon after it came out on the Great Gatsby soundtrack (but before it was chosen as Kimye's wedding song, naturally). Her songs are the perfect material for karaoke. The lyrics are often opaque enough to merit multiple interpretations, but not unthinkably random. Not that you have to know anything about her to attempt "Video Games" in karaoke, but she's as theatrical as her music. In real life, her vague backstory mutates with each interview. Lana Del Rey is as much "Lana Del Rey" as you are Lana Del Rey when you pick one of her songs to sing. (I mean, just look at this amazing drag performance.) The songs are fun to say, too: "But he headed out on Sunday, said he'd come on Monday / I stayed up waitin', anticipatin', and pacin'." You don't need to suffer through the falsetto in "Blue Jeans" if you can spin it off into your own direction. No one will fight you on that creative decision.
What makes a good karaoke choice? Catchiness. Nostalgia. Tone. Sometimes you just have to read the crowd. ("Are these people going to appreciate this obscure 3LW b-side?") But Lana Del Rey's melodramatic songs fit nicely between Billy Joel's everybody-knows-it cliché sing-along "Piano Man" and his wistful, more obscure "Vienna." That one will earn you those coveted high-fives from the regulars.
With karaoke, you're expected to embody the performer and/or song's persona a bit more than if you were just doing, say, a cover song. The expectation with the former is that you'll try to sound somewhat like the artist; with the latter, it's all up for interpretation. On Ultraviolence, Lana covers Nina Simone's "The Other Woman." It's by far the album's saddest track, and her wavering voice plays up its desperation. It's also the album's final song (aside from the bonus tracks), which is intentional, I imagine. Because of that, Ultraviolence ends with: "And as the years go by the other woman / Will spend her life alone." Oof. Every time I sing Tammy Wynette's tear-jerker "Stand By Your Man," I focus more on the weepy verses ("Sometimes it's hard to be a woman / Giving all your love to just one man") and not the big belts. And since Lana is the Queen of All Things Dour (Coney Island, too), her music is rich with sad-girl sorrow that is incredibly ripe for karaoke. When I listened through her newest, Ultraviolence, I listened specifically for the best karaoke options. They are as follows: "Old Money, "West Coast," "Cruel World," "Brooklyn Baby."