Lily Allen Sings 'F*ck You' to FIFA President Sepp Blatter
While flipping the bird.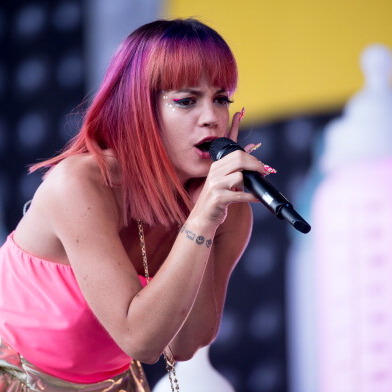 Lily Allen took to the Pyramid Stage at the Glastonbury Festival Friday night with a set that included giant pink baby bottles, some panty-flashing, and a dedication of her burn song, "Fuck You," to none other than FIFA president, Sepp Blatter: "This next song is dedicated to possibly one of the most — well, actually not the most corrupt person — but annoyingly corrupt person there is in the world: Sepp fucking Blatter, you cunt." Before that, Allen lamented the state of England's soccer game. "I was worried it was going to conflict with an England game in the World Cup ... But that didn't happen," she said. "Not only because we are shit, but I reckon there's probably a little bit of corruption going on." It's also possible she was just really upset that "Bass Like Home" wasn't chosen to be England's official World Cup song.
The dedication starts around 7:16 in the video below: