A Very Recent History of Celebrity Cultural Appropriation
A depressingly large club.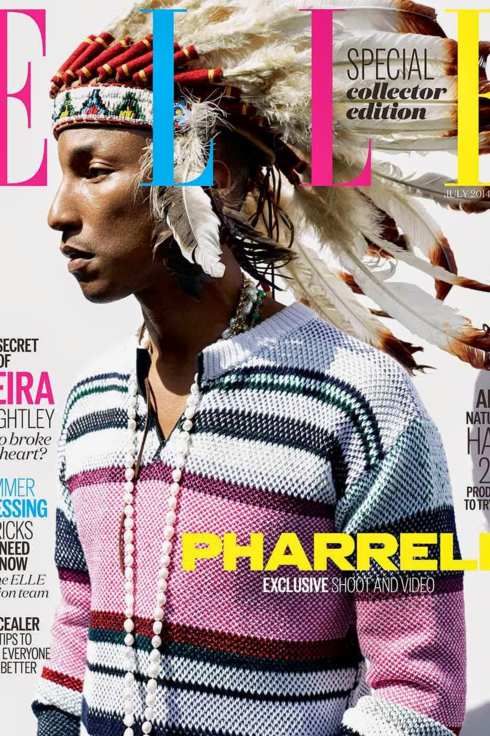 Pharrell found himself in the middle of a cultural appropriation controversy yesterday morning when the cover of July's Elle U.K. — on which he sports a Native-American headdress — hit the internet. Though he apologized almost immediately ("I respect and honor every kind of race, background and culture. I am genuinely sorry."), it made us recall other stars who've made similarly misinformed (or plain ignorant) blunders in the recent past. Come on, folks, it's 2014: everyone should know better at this point.
Celebrity: Kris Jenner (from Keeping Up With the Kardashians)
Scandal: When her daughter Kim's marriage to NBA player Kris Humphries ended after 72 days, Jenner sat down on Good Morning America and called Humphries an "Indian giver" for taking back the engagement ring he'd bought.
Apology: "I am truly sorry if I offended anyone with something I said and I certainly had no intention of hurting or offending anyone," she said in an email the day after her comments. "I am probably the least judgmental person you will ever meet, and never would make fun of anyone, of any race … I was asked a question on the spot and because of my dry sarcastic personality I was apparently trying to find a bit of levity in a really tough situation." She later went on to defend her comments by claiming that her grandson wore moccasins every day. That'll make up for going on national television and saying "Indian giver."
Celebrity: Selena Gomez
Scandal: At the 2013 MTV Movie Awards, Gomez performed her single "Come and Get It" in Indian-themed garb, complete with a bindi on her forehead. The Universal Society of Hinduism demanded an apology.
(Non-)Apology: There was none. "I've learned a lot about the culture, and I think it's beautiful. I think it's fun to incorporate that into the performance," she told Z100's Elvis Duran after the show.
Celebrity: Miley Cyrus
Scandal: At last year's Video Music Awards, Cyrus took heat for slapping a black dancer's backside onstage as well as her attempts at twerking.
(Non-)Apology: In a Rolling Stone cover story the following month, Cyrus defended herself, saying, "I don't keep my producers or dancers around 'cause it makes me look cool. Those aren't my 'accessories.' They're my homies."
Miley Cyrus & Robin Thicke Perform - VMA's
by dm_521ac29c8cde5
Celebrity: Michelle Williams
Scandal: While promoting Oz the Great and Powerful, Williams posed for British fashion magazine anOther dressed as a Native American with long braids and a feather in her hair. (British magazines really need to chill with this.)
(Non-)Apology: Although Williams herself had no comment, the magazine's editors told ABC News, "While we dispute the suggestion that the image has a racist subtext in the strongest possible terms, we're mortified to think that anyone would interpret it in this way."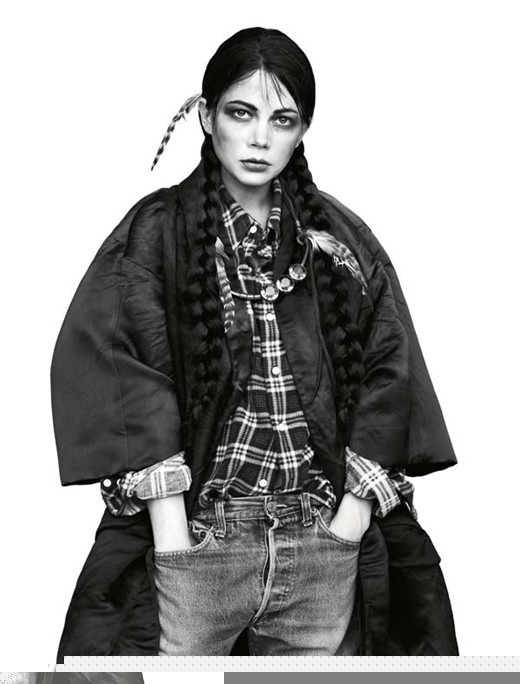 Celebrity: Katy Perry
Scandal: Though she could be on this list for multiple offenses, Perry's most egregious was at last November's American Music Awards, at which she performed her single "Unconditionally" as a geisha in a kimono and a powdered face.
(Non-)Apology: In a February interview with GQ, Perry said, "All I was trying to do is just give a very beautiful performance about a place that I have so much love for and find so much beauty in, and that was exactly where I was coming from, with no other thought besides it."
Celebrity: Avril Lavigne
Scandal: The singer recently released the video for her song "Hello Kitty." It's a three-minute-long clip that features Lavigne downing sushi, drinking sake, and swaying in front of backup dancers dressed in Hello Kitty–stylized outfits.
(Non-)Apology: ""RACIST??? LOLOLOL!!!," she tweeted on April 23. "I love Japanese culture and spend half of my time in Japan. I flew to Tokyo to shoot this video specifically for my Japanese fans, with my Japanese label, Japanese choreographers and a Japanese director in Japan."
Celebrity: No Doubt
Scandal: For the band's 2012 music video "Looking Hot," Gwen Stefani and Co. paraded around in headdresses, ran in and out of tipis, and sent smoke signals. While we're at it: Never forget the controversy surrounding Stefani's Harajuku Girls back in 2004.
Apology: No Doubt yanked the video down from its website and issued a statement: "As a multi-racial band our foundation is built upon both diversity and consideration for other cultures. Our intention with our new video was never to offend, hurt or trivialize Native American people, their culture or their history. We sincerely apologize to the Native American community and anyone else offended by this video. Being hurtful to anyone is simply not who we are."
No Doubt // Looking Hot from The Wall Group on Vimeo.
Celebrity: Heidi Klum
Scandal: In April, the supermodel and Germany's Next Top Model judge posted a gallery of the show's contestants wearing traditional Native-American clothing to her Facebook page with the caption "here are my beautiful girls!
Apology: Klum has stayed mum on the outcry, but a GNTM flack spoke to The Independent on her behalf. "By no means was our intention to insult Native Americans or in any way demean their heritage," he said. "We sincerely apologize."