Looper, Breaking Bad Director Will Do Star Wars Episode VIII
May the force be with him.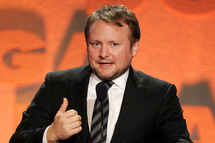 Deadline reports that Rian Johnson will write and direct Star Wars Episodes VIII and IX, following J.J. Abrams, who is directing the upcoming Episode VII. The Wrap is reporting that Johnson will only direct Episode VIII, though he will write a treatment for Episode IX. So he's doing at least one! Johnson is best known for directing 2005's Brick and 2012's Looper. He also has directed two of Breaking Bad's best episodes, "Fly" and "Ozymandias." He'll begin working on the franchise right away. May the force be with him, because people are invested.