Seth MacFarlane Helps Kickstart Reading Rainbow
He'll match up to $1 million in pledges.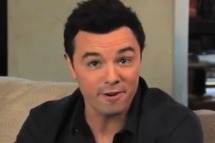 After aiding the spread of scientific literacy with Cosmos — which he executive produces — Seth MacFarlane is turning his philanthropic attention to childhood literacy. According to the AP, MacFarlane has promised to match every pledge up to $1 million donated to LeVar Burton's Reading Rainbow Kickstarter for the remaining five days of the campaign, in order to help reach the $5 million goal (over $4 million has already been raised by over 83,000 donors). In a video on the Kickstarter site, a beaming Burton thanked MacFarlane for his "stupendous offer" and emphasized how the donation would go directly to helping out more schools in need. If this is all one big ploy to help us forget "We Saw Your Boobs," it's working.