PBS Is Making a Shorter Sesame Street
Which means 50 percent more <em>Sesame Street</em> every day.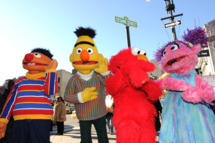 According to the New York Times, PBS is adding a shorter, half-hour version of Sesame Street to its lineup. While the hour-long version will continue to air in the mornings, starting September 1st, there will also be a shorter episode airing in the afternoon block. Select half-hour episodes will also stream on PBS's website, mobile app, and Roku channel. PBS's general manager of children's programming Lesli Rotenberg explains that the condensed episodes are designed to appeal specifically to mobile viewers ("The hour-long show didn't lend itself as well to that," she says) while also targeting kids' short attention spans. Meanwhile, those kids with extra long attention spans and the ability to delay gratification will have a bonus half hour to add to their Sesame binge-watching queue each day. Everybody wins!