Justin Theroux Would Want His Cell Phone for the Rapture
And other Rapture-related worries from <em>The Leftovers</em> premiere.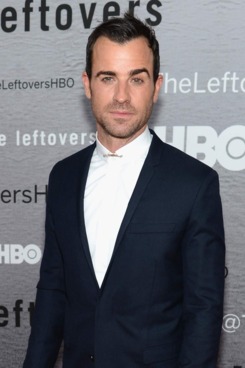 The Leftovers — HBO's new, mildy terrifying sci-fi series based on the Tom Perotta novel — begins with the sudden disappearance of 2 percent of the world's population in an is-it-or-isn't-it biblical-style Rapture. Babies vanish right out their car seats; celebrities like Anthony Bourdain and Gary Busey ghost out with the rest. So at the series' New York premiere, hosted by Tao Downtown, Vulture asked show creator Damon Lindelof, star Justin Theroux, and some other partygoers what they'd miss most if they suddenly got Raptured themselves. Andrew Rannells was very concerned about the end of Nashville.
Justin Theroux
"My cell phone … It depends on where I go. If I go to somewhere great, I probably won't miss anything! But no, I would not want to be taken in a rapture."
Damon Lindelof
"I have to take the sentimental route and say that I'd be panicked about [leaving my] family. Assuming that they weren't with me, which would be highly unlikely. But if the entire family went, I think that I would definitely worry about my shoes. Not like I'm a shoe maniac, but I have like eight pairs now that I'm very loyal to — it's taken me this much time to get a rotation that I'm really thrilled with … Now, outside of the family thing, I've proven myself to be very shallow."
Carole Radziwill
"I'd be most neurotic about leaving my vibrator on my bed, and Lydia, my trusted housekeeper, would find it. But she's found it so many times, she doesn't even care."
Alex Karpovsky
"If it happened tomorrow … the thing I'm writing right now has a lot of memoir stuff. I would like to change all the names before it's released. I would hate for that to happen before I could do a 'find and replace.' I will when it's done, but I need them there for motivation now."
Andrew Rannells
"I'd be very stressed about missing television shows. Like, I'm not going to know what's happening on Nashville."
Okay, but what if the Rapture involved things and not TV shows?
"Hair products. If the rapture involved toiletry items disappearing, I'd be fucked. My whole identity is wrapped up in this hairdo."