Tom Hiddleston to Star in Hank Williams Biopic
About the rise and fall of the iconic country singer.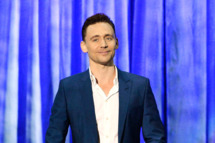 According to Deadline, Avengers star Tom Hiddleston will star as Hank Williams in I Saw the Light, Marc Abraham's biopic about the iconic country-and-western star. The film will chronicle Williams's rise to fame and his tragic death at the age of 29, and will feature Hiddleston singing classic Williams songs such as "Your Cheatin' Heart," I'm So Lonesome I Could Cry," and "Hey Good Lookin'." Choosing a British actor to portray Alabama's so-called "Hillbilly Shakespeare" may seem questionable to some, but based on Hiddleston's diverse achievements in the genres of hipster-vampire rock, pirate sea shanties and vehicular karaoke, we're confident he'll be able to nail a country twang.