Tracy Morgan in Critical Condition After Car Crash [Updated]
Three other people were seriously injured; one was killed.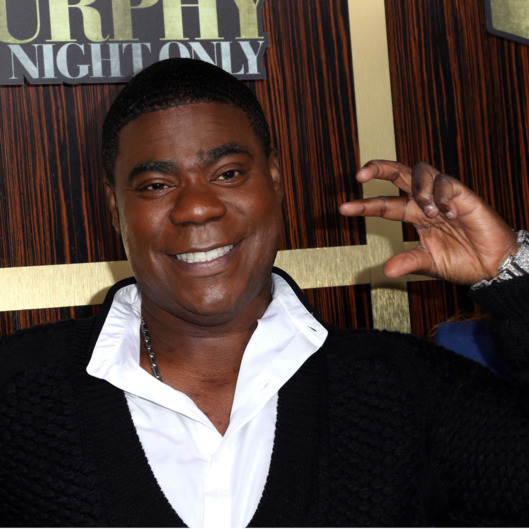 Tracy Morgan is in critical condition after his limo bus overturned in a pileup on the New Jersey Turnpike. According to ABC News, a dozing driver of an 18-wheel tractor trailer slammed into the back of Morgan's vehicle, causing it to spin and flip over, creating a chain reaction involving six vehicles total. New Jersey State Police spokesman Gregory Williams said, "The driver failed to observe slow-moving traffic ahead. He observed at the last minute — just prior to impact — the limo bus carrying Morgan and his party."
Morgan was on the road for his "Turn It Funny" comedy tour and had just performed at the Dover Downs Hotel & Casino in Delaware. Williams said that Morgan was shuttled by helicopter to a hospital in New Brunswick, New Jersey. Ardie Fuqua, Jeff Millea (Morgan's assistant), and another comedian named Harris Stanton have been hospitalized. Fellow comedian and comedy writer for Morgan, James McNair of Peekskill, New York, died in the crash. On Saturday afternoon, the tractor-trailer driver, 35-year-old Kevin Roper, was charged with one count of death by auto and four counts of assault by auto.

Morgan's publicist, Lewis Kay, said in a statement, "His family is now with him and he is receiving excellent care. We don't anticipate much of a change in his condition today but will provide a further update once more information becomes available."
This post has been updated throughout.