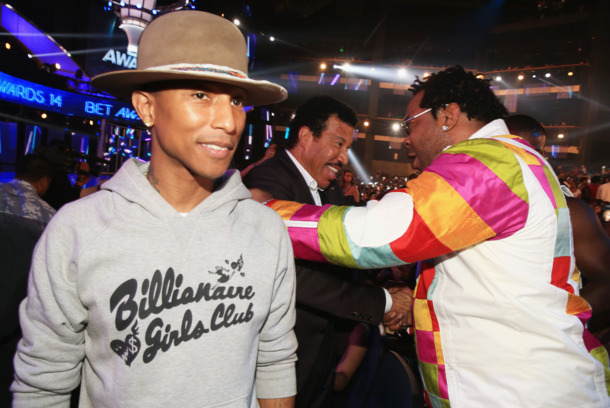 What You Missed at the 2014 BET Awards
Last night's BET Awards were four hours long, but I sat through all 240 minutes, and I would like to tell you: It was pretty fun. Chris Rock nailed the hosting gig, performances ranged from nostalgic (Color Me Badd!) to emotional (Lionel Richie tribute!) to shade-filled (Nicki, Nicki, Nicki). Chris Brown didn't hurt anyone. Paris Hilton even showed up! So, in case you didn't have the entirety of a Sunday night to watch a live awards show, here is a quick roundup of last night's best performances and moments. Note: We're going to link out to the video for some of these, as to avoid having to embed BET's awful, auto-playing clips. Thank you for your understanding.
Pharrell opened the show. Clearly someone over at BET knew pretty far in advance that he'd sweep. Missy Elliott even showed up! (Maybe to distract us from wondering where Miley was, but that didn't work. You'd think that Miley would move some things around in her schedule for the BET Awards, no? Where's Miley?)
Our host for the evening was Chris Rock, who proved once again that Chris Rock can and should host everything. He's quick on his feet, and he yelled "And we're black!" after all the commercial breaks, which was funny. Here's his opening monologue:
T.I. and Iggy Azalea performed "Mediocre" and it was, dare I say, extremely mediocre. (Sorry! You set yourself up for this! Every single time!) Notably, during Iggy's solo performance of "Fancy" (Where you at, Charli?) Nicki did this:
There was even a '90s throwback featuring Color Me Badd, Troop and Silk. Yes, really: Troop, Silk and Color Me Badd.
Phylicia Rashad paid tribute to Maya Angelou and Ruby Dee, while wearing the World's Most Elegant caftan. And now no one else is allowed to wear one.
Finally, the performance we we waited four long hours for! Wait, is that a clip from the On the Run tour? Bey and Jay sent a low-res clip from their tour? They aren't even in the building?!
Photo: Christopher Polk/BET/Getty Images