Beck's Sheet-Music Collection Is Being Turned Into an Album
By Jack White, Jack Black, fun., and others.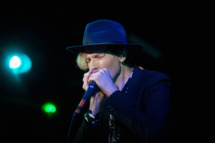 Beck's 2012 sheet-music collection Song Reader is finally being made into a studio album — just not by Beck. Each of the 20 tracks will be performed by a different artist, including Jack White, Jack Black, Wilco's Jeff Tweedy, fun., Laura Marling, and Norah Jones, with Beck performing only one of the songs, "Heaven's Ladder." "Like a kid getting a special package in the mail and opening it up with anticipation, these interpretations of songs from the Song Reader book have surpassed what I could have imagined when putting the book together," said Beck, who co-produced the compilation alongside Wes Anderson and Martin Scorsese's music supervisor Randall Poster. "The book addressed the idea of a song in its most elemental form, letting others give it a voice. It amazes me to hear how these musicians have made the songs their own and in the process revealed that the interpretation is the living breathing soul of the piece. These interpretations have made the book something new, something better." We guess Anne Hathaway and Jenny Lewis's rendition didn't make the cut?