Best of Netflix, Amazon, and Hulu Streaming: Ass-Kicking Women
Scarlett Johansson's <em>Lucy</em> has many foremothers.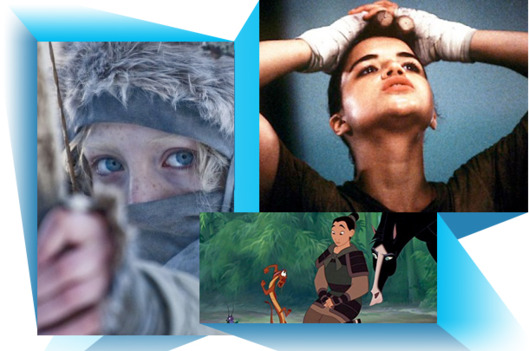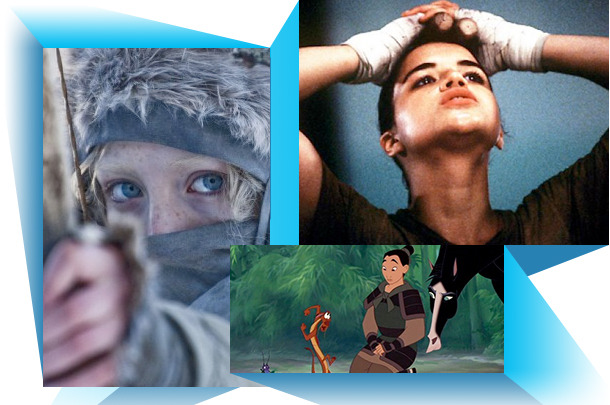 This weekend, as you search for a movie to watch, you can either see Lucy or pick one of approximately 14 billion options available on streaming over a variety of services, be it Netflix, Hulu, Amazon, On Demand, or other sites. Every Friday, Vulture tries to make life easier by narrowing it down to a handful of heartily recommended options. This week, a quartet of films about strong female protagonists.

Girlfight (2000)
Tap an uplifting sports drama and watch the sap flow out. Girlfight, the feature debut from Jennifer's Body director Karyn Kusama, is no exception; chronicling a troubled teen's attempts to focus her aggression on legal fighting, the Sundance darling splices Rocky and Stand and Deliver to satisfying, if familiar results. But Michelle Rodriguez's performance is next level. Knowledge of the actress's now-notorious high school years, a time when perpetual expulsion nearly landed her in jail, only shades the harsh, charcoal sketch of her performance. Circumstance — aggressive classmates, her abusive father, the trainers who brush her off — keeps her character always poised to jab, whether there's a punching bag in the room or not. Rodriguez finds sympathy in the viciousness; at once, she's physically intimidating and delicate. The Fast and the Furious plucked Rodriguez from this film for its burly ensemble. It's easy to see why. (Streaming on Hulu)
Hanna (2011)
A modern-day fairy tale with flavors of David Lynch and Korean action cinema, Joe Wright's teen assassin movie made a small splash in 2011. Perhaps because Saoirse Ronan's title character, a Bourne-like super soldier adopted at birth by the government and trained to kill, is decidedly un-Hit-Girl. Wright skews away from comic book violence and plastic colors, nurturing Hanna into a dreamy, spine-tingling coming-of-age story. Hanna spends a sizable portion of the movie outrunning murderous agents and learning what it's like to be a 15-year-old girl who isn't a stone-cold killer. Even when she's gunning down adversaries, Wright finds sweetness. He also conjures up some incredible set pieces. As Hanna's dad, Eric Bana executes one of the craziest long-scene fight sequences ever committed to film. Set to original Chemical Brothers music, Hanna is off-kilter in the best of ways. (Rent on iTunes, Vudu, Amazon, Xbox, Target Ticket)
Foxy Brown (1974)
The movies were desperate for Pam Grier. At the end of the 1960s, empowered black characters were still a rarity. In and outside the Hollywood system, Blaxploitation began to flourish. Grier, working with director Joe Hill, solidified women as equal partners in a wave of sexy, violent, shocking, wry films. Foxy Brown is the pinnacle of the actress's kick-ass-lady routine. Crude and in-your-face, Grier plays a woman hungry for revenge after her boyfriend is assassinated by a drug syndicate. Her opponents are armed with deadly weapons and even deadlier behavior — every time a slobbering white guy tears at her clothing or drops the N-word, you can't wait for Foxy to pay it back. And she does. Foxy slices up brutish goons, douses them in gasoline before setting them on fire, chops of their manparts, and never stumbles (even in heels). She is a force to be reckoned with. Action buffs like Quentin Tarantino continue to bow at her altar. (Stream on Amazon Prime, Rent on iTunes, Vudu, Amazon)
Mulan (1998)
For parents who think they might snap if they hear that damn Frozen song one more time, this animated war film takes the Disney princess archetype and turns her into a warrior. Based on a real fourth century Chinese hero's life, the film's title character finds herself knee-deep in battle after disguising herself as a man to take her elderly father's place in an impromptu Chinese draft. There, she grapples with Han soldiers and gender stereotypes: Her fellow soldiers hope to impress the ladies back home with their brawn; Mulan wonders (correctly) if they couldn't use a little female intellect to keep the army on course. Turns out, she's the best of both worlds, agile and sharp. With vivid, Eastern designs, rousing original songs, an epic score by Jerry Goldsmith, and a dash of comedy courtesy of Eddie Murphy, Mulan is one of the last great 2-D animated films made from the classic Disney mold. Singer-actress Lea Salonga can belt like Idina Menzel, don't worry. (Stream on Netflix, Rent on Vudu, Amazon, Google Play, Xbox, Target Ticket)
Aeon Flux (Rent on iTunes, Vudu, Amazon, Google Play, Xbox, Target Ticket)
Alien (Rent on iTunes, Vudu, Amazon, Xbox)
Aliens (Rent on iTunes, Vudu, Amazon, Xbox, Target Ticket)
Alien 3 (Rent on iTunes, Vudu, Amazon, Xbox, Target Ticket)
Alien Resurrection (Rent on iTunes, Vudu, Amazon, Xbox, Target Ticket)
The Avengers (Stream on Netflix, Rent on iTunes, Vudu, YouTube)
Batman Returns (Rent on iTunes, Vudu, Amazon, Google Play, Xbox)
Brave (Rent on iTunes, Vudu, Amazon, YouTube, Google Play)
Captain America: The First Avenger (Rent on iTunes, Vudu, Amazon, Xbox, Target Ticket)
Charlie's Angels (Rent on iTunes, Amazon)
Charlie's Angels: Full Throttle (Rent on Vudu, Amazon, Xbox)
Coffy (Rent on iTunes, Vudu, Amazon, Google Play, Xbox)
Crouching Tiger, Hidden Dragon (Stream on Netflix, Rent on iTunes, Vudu, Amazon)
The Dark Knight Rises (Rent on iTunes, Vudu, Amazon, YouTube, Google Play, Xbox, Target Ticket)
Death Proof (Rent on YouTube)
Elektra (Rent on iTunes, Vudu, Amazon, Xbox, Target Ticket)
Ghost in the Shell (Rent on iTunes, Vudu, Google Play, Target Ticket)
G.I. Jane (Rent on iTunes, Vudu, Amazon, Target Ticket)
The Girl With the Dragon Tattoo (2009) (Stream on Netflix, Rent on iTunes, Vudu, Amazon)
Haywire (Rent on iTunes, Vudu, Amazon, YouTube)
The Hunger Games (Stream on Netflix, Amazon Prime, Rent on iTunes, Vudu)
The Hunger Games: Catching Fire (Rent on iTunes, Amazon, YouTube, Google Play, Target Ticket)
Kick-Ass (Rent on iTunes, Vudu, Amazon, Google Play, Xbox, Target Ticket)
Kick-Ass 2 (Rent on iTunes, Amazon, YouTube, Google Play)
Kill Bill: Vol. 1 (Stream on Netflix, Rent on iTunes, Vudu)
Kill Bill: Vol. 2 (Stream on Netflix, Rent on iTunes, Vudu, Xbox)
Lara Croft: Tomb Raider (Stream on Netflix, Amazon Prime, Rent on iTunes, Vudu, Amazon, Xbox, Target Ticket)
Lara Croft Tomb Raider: The Cradle of Life (Stream on Netflix, Rent on iTunes, Vudu, Xbox)
The Matrix (Rent on iTunes, Vudu, Amazon, YouTube, Google Play, Xbox, Target Ticket)
The Matrix Reloaded (Rent on iTunes, Vudu, Amazon, YouTube, Google Play, Xbox, Target Ticket)
The Matrix Revolutions (Rent on Vudu, Amazon, Google Play, Xbox, Target Ticket)
Night of the Comet (Vudu)
Out of Sight (iTunes, Vudu, Amazon)
Pirates of the Caribbean: The Curse of the Black Pearl (Stream on Netflix, Rent on iTunes, Vudu, Amazon, Google Play)
Point of No Return (Rent on iTunes, Vudu, Amazon, Xbox)
Raiders of the Lost Ark (Rent on iTunes, Vudu, Amazon, Xbox)
Resident Evil (Stream on Hulu, Crackle)
Resident Evil: Afterlife (Crackle)
Resident Evil: Apocalypse (Netflix)
Salt (Rent iTunes, Vudu, Amazon)
Snow White & the Huntsman (Rent on iTunes, Vudu, Amazon, YouTube, Xbox)
Sucker Punch (Rent on iTunes, Vudu, Amazon, Xbox)
Terminator 2: Judgment Day (Stream on Netflix, Rent on Vudu, YouTube, Xbox)
Underworld (Rent on iTunes, Vudu, Amazon)
Underworld Awakening (Rent on Amazon)
Underworld: Evolution (Rent on iTunes)
Underworld: Rise of the Lycans (Rent on iTunes, Amazon)