The New Season of Community Won't Be Released All at Once
Probably not until Christmas 2014.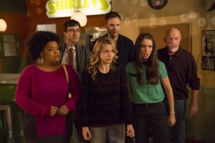 Today at Comic-Con's "Greendale Forever" panel, Dan Harmon, Joel McHale, Gillian Jacobs, and others got together to talk about Community's forthcoming sixth season, which was recently picked up for a 13-episode order by Yahoo Screen. While they were relatively tight-lipped about what's in store for the Greendale Five (?), they did reveal that the new episodes won't be released all at once, but will be rolled out weekly — sorry binge watchers — and likely not until after Christmas 2014. "With Season 6 of Community, you'll be watching it the way you always watched it, only this time it's legal," Harmon said. Added McHale: "I know that all of you, mostly white people ... you watch it the way that most people do is on tiny little screens, and now we're on one. So f*** you network television. Unless they want us back."