Comic-Con: Did Joss Whedon Just Kill All the Avengers?
The first footage from the new <em>Avengers</em> sequel included one shocking scene.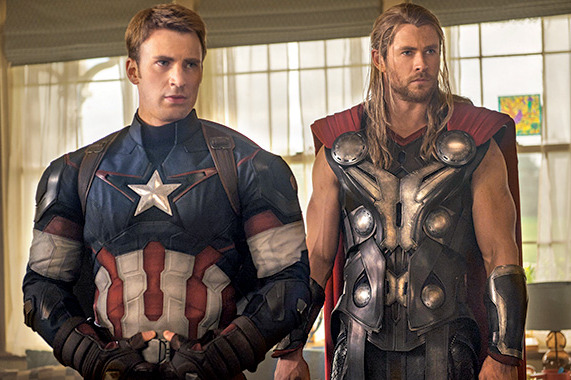 Long before shows like Game of Thrones and Lost taught us that anyone was expendable, Joss Whedon was the undisputed master at killing off your favorite characters. Whedon's tenure at the helm of shows like Buffy the Vampire Slayer and Angel left behind a body count of the beloved, but you might have thought that Whedon's foray into directing superhero movies would curb his murderous tendencies: Yes, he snuck one surprise death into The Avengers, but the superhero-stuffed sequel Avengers: Age of Ultron wouldn't seem to have as many expendables. Who among these franchise-sporting superheroes could he kill, really?
The answer, it seems, is every goddamn last one of them.

That is, if we're to go by the shocking last scene from the Age of Ultron trailer that just screened at Comic-Con tonight. Most of the trailer is something else entirely: We see the Avengers tussling with the arrogant robot Ultron (voiced by James Spader) and a couple of new recruits, including Scarlet Witch (Elizabeth Olsen) and Quicksilver (Aaron Taylor-Johnson). "I have a vision," intones Ultron. "The whole world screaming for mercy. Everyone tangled up in strings." And indeed, from all the war-torn locales we glimpse in the trailer, the big bad robot is making good on his plans. "There are no strings on me!" roars Ultron.

But then, after we get the title card, there's one last shocking sight: a battered Tony Stark waking up in some cosmic realm, Captain America's split-in-half shield beside him. As Tony rises, he stares up a set of stairs suspended in space, and he sees that this odd outcropping is covered with the dead bodies of his fellow Avengers. Whedon! How could you?!

The Comic-Con audience was more than startled by the shot, and not simply because it's unnerving to see a mass grave of superheroes. What this tableau called to mind is a famous beat from the comic-book story that many had thought Marvel would mine in The Avengers 3: the murder of every superhero by the mad space titan Thanos. The big purple baddie is certainly an important part of Marvel's future plans, and the Comic-Con panel even included a cameo from Josh Brolin, who plays Thanos in Guardians of the Galaxy (and entered Hall H wearing Thanos's powerful Infinity Gauntlet), but does this all mean Thanos will be fighting the Avengers much earlier than we'd thought? Or, more likely, will the telepathic Scarlet Witch feed Tony this vision of his dystopian future, and provide Age of Ultron with a nifty, in-movie trailer for its sequel?

Other tidbits from the Avengers panel, which brought most of the movie's stars to San Diego:

— As is his wont, Robert Downey Jr. entered Hall H to music — this time, he soaked up fan adoration to Michael Jackson instead of AC/DC. "It just keeps getting better," Downey Jr. said, as he introduced his fellow Avengers and all the newbies, including Spader and Paul Bettany (who'd voiced JARVIS in previous Iron Man movies, and transforms into the brand-new superhero Vision in this installment). "I've become a little less significant each time," said Downey Jr., "which is just fine, cause they're all so damn good."

— What made Jeremy Renner want to take on Hawkeye (and a multi-film Marvel contract)? He nodded at Downey Jr., to his right. "He's the one who convinced me ... and washed my car in a thong."

— Chris Hemsworth's swollen biceps were the panel's most special effect, and Mark Ruffalo helpfully pulled up his sleeves for a better look. Still, when Hemsworth was asked where he'd like to take Thor in future installments, the buff, deep-voiced actor nodded to recent comic-book developments and said he'd like to play the God of Thunder as a woman: "I don't want to speak too early and jinx it, but I think it could be my Oscar."

— Elizabeth Olsen is more than convincing as a witch, claimed Downey Jr. "She actually cast a spell on me two weeks ago," he said. "Hopefully, before this is all done, she'll relieve me of it. It burns."

— James Spader has always seemed to be operating on his own odd wavelength, but as he gazed upon the thousands of weirdos who'd camped out all night to see this panel, he may have met his match. "I just want to say something to all of you guys," Spader purred. "I've always thought my whole life that life could never get weird or crazy enough for me." He paused. "This place must be the weirdest, craziest place I've ever seen. I thank you for that."