The Next Season of Parenthood Will Revolve Around One Big Story
According to showrunner Jason Katims.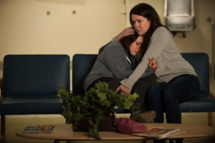 The sixth and final season of Parenthood premieres September 25, and by the sound of it, fans have an interesting one to look forward to. According to showrunner Jason Katims, the new season will center around one larger narrative that affects everyone in the family. "One of the things I wanted to do for the season was to find one larger story that influences everybody on the show," he explained at Sunday's TCA press tour. "The story is going to be introduced in the first episode and play throughout the season. It's a huge new challenge for the family and one that we didn't see before … In this case, I feel like I want to to do something that starts at the beginning of the season, by the way there will be as many story lines going on as usual, but this will be something that tracks us throughout the year." It's not clear yet what this plot line will entail, but we suggest stocking up on tissues preemptively.