Rosie O'Donnell Is Returning to The View
ABC just made it official.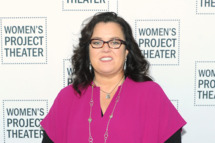 ABC confirmed Thursday that Rosie O'Donnell will be returning as co-host of The View for season 18, alongside moderator Whoopi Goldberg. The announcement comes in the wake of a major house-cleaning at ABC's flagship daytime talk show, with co-hosts Jenny McCarthy and Sherri Shepherd both announcing their (probably involuntary) departures late last month. O'Donnell, for her part, previously co-hosted the show back in 2006–2007 before breaking her contract early after a conflict stemming from an on-air fight with co-host Elisabeth Hasselbeck. We wonder if ABC lured her back with some of that sick Oprah money?