The Tupac Musical Is Already Closing
So long, <em>Holler If Ya Hear Me</em>.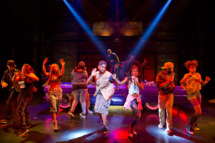 Broadway's Tupac musical Holler If Ya Hear Me will shutter Sunday after only six weeks of performances, the New York Times reports. One of the worst-selling musicals in recent years, the show struggled to attract an audience, with producer Eric L. Gold saying in a statement Monday that he made a "rookie mistake" in underestimating how much money the show would need to keep running and blaming the closure on the "financial burdens of Broadway." Although, if you ask us, the lack of Tupac holograms in the show was probably a factor. People love those things.