True Detective and Veep Win Big at TCA Awards
<em>Breaking Bad</em> won, too.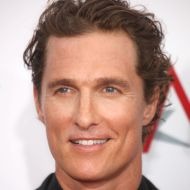 On Saturday evening, Brooklyn Nine-Nine's Terry Crews hosted the Television Critics Association annual secret (meaning non-televised) awards show at the Beverly Hills Hilton Hotel. While you have the usual winners (Breaking Bad won for best program; Orange Is the New Black won for best new show), there were some great picks that you normally don't hear about around these parts (Emmys, ahem) like The Fosters (!) and RuPaul's Drag Race (!!). See below for the rest of the winners and also-rans.
Individual Achievement in Comedy
Louis C.K., Louie
Mindy Kaling, The Mindy Project
Julia Louis-Dreyfus, Veep
Jim Parsons, The Big Bang Theory
Amy Poehler, Parks and Recreation
Individual Achievement in Drama
Bryan Cranston, Breaking Bad
Julianna Margulies, The Good Wife
Tatiana Maslany, Orphan Black
Matthew McConaughey, True Detective
Matthew Rhys, The Americans
Outstanding Achievement in News and Information
CBS Sunday Morning
Cosmos
The Daily Show with Jon Stewart
Frontline
60 Minutes
Outstanding Achievement in Reality Programming
The Amazing Race
RuPaul's Drag Race
Shark Tank
Survivor
The Voice
Outstanding Achievement in Youth Programming
Adventure Time
Daniel Tiger's Neighborhood
The Fosters
Sesame Street
Switched at Birth
Outstanding New Program
Brooklyn Nine-Nine
Fargo
Orange Is the New Black
Sleepy Hollow
True Detective
Outstanding Achievement in Movies, Miniseries and Specials
American Horror Story: Coven
Broadchurch
Fargo
The Returned
True Detective
Outstanding Achievement in Drama
The Americans
Breaking Bad
Game of Thrones
House of Cards
The Good Wife
Outstanding Achievement in Comedy
The Big Bang Theory
Brooklyn Nine-Nine
Louie
The Mindy Project
Veep
Career Achievement Award
Mark Burnett
James Burrows
Valerie Harper
Jay Leno
William Shatner
Heritage Award
Lost
Saturday Night Live
South Park
Star Trek
Twin Peaks
Program of the Year
Breaking Bad
Game of Thrones
The Good Wife
Orange Is the New Black
True Detective