39 Albums to Get Excited About This Fall
Including Taylor Swift, Karen O, 50 Cent, and more.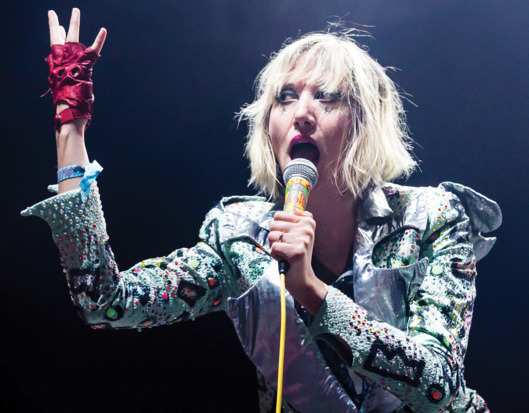 Hopefully, you've had a few minutes to play around with our Fall Entertainment Generator. But if you're looking for straight and simple lists of things to look out for by medium, we'll be breaking them out separately. Here's a look at fall music.
SEPTEMBER
9/2
Blonde Redhead, Barragán
If early single "No More Honey" is any indication, this downtown trio's first album in four years continues their move away from their more jagged earlier material toward a fuller, dreamier aesthetic.
Nick Carter and Jordan Knight, Nick & Knight
The cute one from the Backstreet Boys and the bad boy from New Kids on the Block trade smoldering stares—and sweet, sweet melodies.
Counting Crows, Somewhere Under Wonderland
Yes, these '90s holdouts are still pumping out earwormy tunes as catchy as "Mr. Jones."
Jeezy, Seen It All
Young no more, Jeezy claims elder statesrapper status and the nickname 10 Chainz on the title track.
9/9
Karen O, Crush Songs
The first solo album from the Yeah Yeah Yeahs' front woman, written and recorded in private "when I was 27 and crushed a lot."
Simian Mobile Disco, Whorl
A live-recorded set of hypnotic grooves from the duo making EDM for the thinking dance-music fan.
Ryan Adams, Ryan Adams
After breaking up with the Cardinals and struggling with an inner-ear disorder, Adams returns with a record inspired in part by his childhood heroes like the Velvet Underground and the Smiths.
Tennis, Ritual in Repeat
Haim fans, take note: Alaina Moore's delicate voice drives buoyant guitar pop on this release, with production from Spoon's Jim Eno, the Black Keys' Patrick Carney, and the Shins' Richard Swift.
Busdriver, Perfect Hair
Dense and deeply weird Afro-futuristic rhymes from L.A. rapper and producer Regan Farquhar.
Death From Above 1979, The Physical World
Noel Gallagher's producer lends some pop sheen as producer on the latest from the Canadian drum/bass duo, ten years after their much-heralded debut.
Banks, Goddess
The L.A. chanteuse's debut channels Lorde with big, melancholy synth-pop.
9/16
Raekwon, Fly International Luxurious Art
Wu-Tang's most gifted storyteller delivers another disc of rich New York gangsta classicism.
Game, Blood Money La Familia (Year of the Wolf)
Antisocial rap-o-rama: The Compton rapper has already bragged he's "going in on a lot of people" and sparking "a whole angry movement" with this joint.
50 Cent, Street King Immortal
After an almost three-year-long delay, Fitty's sixth album will see the light of day.
9/23
Kenny Chesney, The Big Revival
Chesney goes Mellencamp on rootsy lead single "American Kids," but there's reason to expect more interesting things from the country superstar on this record: collaborations with Alison Krauss and Grace Potter.
alt-J, This Is All Yours
The second effort from this across-the-pond group brings high-res prestige pop, cinematic and violent videos, and Miley Cyrus samples.
Tweedy, Sukierae
Wilco's Jeff Tweedy puts out a solo record that's not quite solo—his 18-year-old son, Spencer, plays drums.
Lenny Kravitz, Strut
Expect confessionals and more '70s-tinged rock from Kravitz, who accuses a former lover of shooting him in his "heart of glass" in the album's first single, "The Chamber."
King Tuff, Black Moon Spell
An album of vintage, guitar-heavy power pop for everyone who believes, as Homer Simpson famously said, that rock attained perfection in 1974.
Laetitia Sadier, Something Shines
The third solo album from Stereolab's Anglo-French front woman, rife with the polysyllabic melodies her indie fans have come to expect.
9/30
Electric Youth, Innerworld
The debut synth-pop album from the Canadian duo that collaborated on Drive's "A Real Hero" theme.
Jeremih, Late Nights: The Album
The man who brought you "Birthday Sex" returns to familiar ladies'-man territory.
Weezer, Everything Will Be Alright in the End
Blue Album producer Ric Ocasek helps Rivers Cuomo come to terms with his decades in the emo limelight.
Yelle, Complètement Fou
Pop titan Dr. Luke beefs up the coquettish Paris electropop outfit's sound.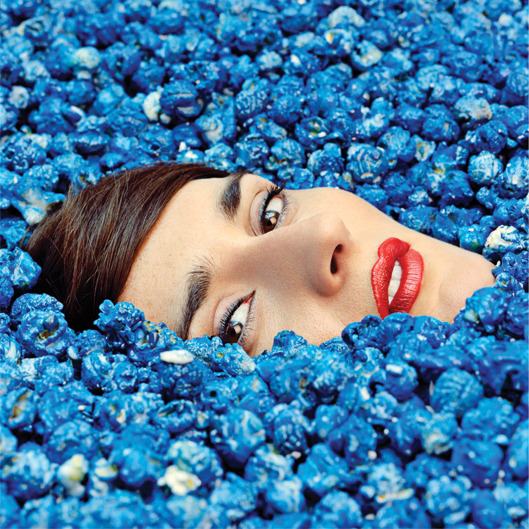 OCTOBER
10/6
Johnny Marr, Playland
The Smiths and Modest Mouse guitarist has emerged from behind Morrissey's shadow and found a well of midlife momentum, with his second solo album out just a year after his first.
10/7
The Vaselines, V for Vaselines
The Kurt Cobain favorites (they were covered on Nirvana's Unplugged) continue their recent revival, pulling in Scottish hipster royalty: They recorded at Mogwai's studio and got guest turns from members of Belle and Sebastian and Teenage Fanclub.
Caribou, Our Love
Soulful, sample-heavy house from the electronic songwriter-producer known for his straight-up psychedelic rock.
Tinashe, Aquarius
After three self-assured mixtapes, the singer — who strongly brings to mind Aaliyah and Rihanna — puts out her first solo record on the strength of slinky single "2 On."
Vashti Bunyan, Heartleap
The cult folksinger, who out-wisps the other Joni Mitchell wannabes, promises this album will be her last.
Zola Jesus, Taiga
The bleached-blonde electro-goth goddess goes brunette—and embraces unabashed pop anthems.
10/14
OK Go, Hungry Ghosts
More hyperactive pop from those guys who made the Rube Goldberg music video.
Stars, No One Is Lost
Cinematic indie pop from the sparkly Canadian group, best known for their 2003 album Heart.
10/21
The Budos Band, Burnt Offering
Citing influences from Fela Kuti to Black Sabbath, the rollicking Afro-soul instrumental collective turns out a soundtrack for hazy teenage afternoons spent in garages and basement rec rooms.
Charli XCX, Sucker
The big-voiced Brit riding the wave of her hit "Boom Clap" has been listening to lots of the Ramones and Weezer lately—expect punk-tinged dark pop.
Diana Krall, Wallflower
The smoky-voiced singer and pianist covers her early inspirations, from the Mamas & the Papas to Elton John.
10/27
Taylor Swift, 1989
So many breakups, friendships with famous people, haircuts, and op-eds to cover! And probably as many inescapable choruses. The first single, "Shake It Off," has already proved controversial, thanks to the line of twerking dancers Swift crawls under.
NOVEMBER
11/4
Deerhoof, La Isla Bonita
After 2012's electronic experiment, Breakup Song, the San Francisco indie stalwarts return to form — which is to say, jittery, blistering guitar noise with an absurdist kawaii sheen and gleefully childlike, singsong vocals.
11/10
Foo Fighters, Sonic Highways
The nicest man in rock and his buddies are sticking to what works: Two decades into their career, Dave Grohl says there will be "stadium anthems that startle" on this record, the band's first since 2011's Wasting Light.
G-Unit, still untitled, no release date announced yet
Following a surprise reunion of the fractious group at the most recent Summer Jam, 50 Cent promised a new album — let's hope he doesn't offend Young Buck before then.
*This article appears in the August 25, 2014 issue of New York Magazine.