71 Plays Premiering This Fall
Featuring Tavi Gevinson, James Earl Jones, Hugh Jackman, and more.
Hopefully, you've had a few minutes to play around with our Fall Entertainment Generator. But if you're looking for straight and simple lists of things to look out for by medium, we'll be breaking them out separately. Here's a look at fall theater.
SEPTEMBER
9/4
Red Eye of Love
Dicapo Opera Theatre
Arnold Weinstein's musical is based on his 1961 play about idealism in Depression New York, with sets by Robert "love" Indiana.
The Money Shot
Lucille Lortel Theater
Neil LaBute sets his sights on desperate Hollywood players. This can't end well. With Callie Thorne and Frederick Weller.
Waiting for Godot (Vartn af Godot)
Barrow Street Theatre
Beckett in Yiddish!
The Wayside Motor Inn
Signature Theatre
A.R. Gurney's Signature residency begins with this funny, poignant look at the fragility of the American Dream.
9/5
Bastards of Strindberg
Lion Theatre
Four new short plays inspired by Strindberg's Miss Julie via the Scandinavian American Theater Company.
The Winter's Tale
Delacorte Theater
A cast of 200 New Yorkers — actors and non — sing and dance through Todd Almond's musicalization of Shakespeare's fable.
9/8
I Like to Be Here
Theatre 167 at the New Ohio
Portraits of Queens residents, from a Bangladeshi cabbie to a closeted cop.
9/9
Bauer
59E59 Theaters
True-life art intrigue: Why did the painter Rudolf Bauer quit at the peak of his career?
9/10
Bootycandy
Playwrights Horizons
Robert O'Hara's interconnected satirical sketches about growing up gay and black.
Solitary Light
Axis Company
A new musical, by Randy Sharp and Paul Carbonara, about the Triangle Shirtwaist Factory fire.
Juárez: A Documentary Mythology
Rattlestick Playwrights Theater
Theater Mitu's look at the war on drugs.
9/11
This Is Our Youth
Cort Theatre; in previews now
The indiest of trios — Tavi Gevinson, Michael Cera, and Kieran Culkin — in Kenneth Lonergan's story of ­disaffected Manhattan near-adults.
9/12
Almost Home
Acorn Theatre
A '60s Marine returns to his fragile Bronx family in Walter Anderson's new drama.
9/14
The Valley of Astonishment
Theatre for a New Audience
Peter Brook and Marie-Hélène Estienne's play is based on stories of real people who literally see the world differently — experiencing color as taste, sound as color, etc. Starring Kathryn Hunter.
9/17
Embers
BAM Harvey Theater
Pan Pan Theatre stages a Beckett radio play on a creepy giant-skull set.
Riverrun
BAM Fisher
Olwen Fouéré does triple duty, adapting and directing Finnegans Wake and playing "the voice of the river."
Rock Bottom
Joe's Pub
Bridget Everett's solo show about hurtling through life "wine bottle by wine bottle and man by man," with help from the songwriters Marc Shaiman and Scott Wittman and the Beastie Boys' Adam Horovitz.
To the Bone
Cherry Lane Theatre
A world premiere by playwright and performer Lisa Ramirez, about the lives of immigrant poultry-plant workers.
9/18
Love Letters
Nederlander Theatre; in previews Sept. 13
A.R. Gurney's much-performed two-hander, with celebrities in monthlong stints: Mia Farrow, Carol Burnett, Brian Dennehy, Alan Alda, Candice Bergen, Diana Rigg, Anjelica Huston, Martin Sheen.
9/22
Scenes From a Marriage
New York Theatre Workshop
The Ingmar Bergman TV mini-series, adapted by Emily Mann and directed by Ivo van Hove.
9/23
Uncle Vanya
Pearl Theatre Company
Hal Brooks takes on Chekhov's eternally powerful tragicomedy.
9/28
You Can't Take It With You
Longacre Theatre; in previews now
James Earl Jones in Moss Hart and George S. Kaufman's beloved comedy.
9/29
Stalking the Bogeyman
New World Stages
David Holthouse's "This American Life" story of a male rape victim's revenge.
9/30
King Lear
NYU Skirball Center
The Shakespeare's Globe production, with Joseph Marcell as the mad king.
Indian Ink
Roundabout Theatre Co. at the Steinberg Center for Theatre
Rosemary Harris is an English poet with a mysterious past in this rarely seen 1995 Tom Stoppard play.
OCTOBER
10/1
Tail! Spin!
Lynn Redgrave Theater at Culture Project
Mario Correa's look at the emails that undo powerful men returns, starring Rachel Dratch.
10/2
The Country House
Friedman Theatre; in previews Sept. 9
Chekhov in Williams­town: Blythe Danner ­anchors Donald Margulies's salute to The Seagull, centered on an acting family in the Berkshires.
Tempest
La MaMa
Director Karin Coonrod and composer Elizabeth Swados co-created this world premiere, a music-theater version of Shakespeare's play, with an intergenerational cast led by Reg E. Cathey as Prospero.
10/5
The Curious ­Incident of the Dog in the Night-time
Barrymore Theatre; in previews Sept. 10
Following a sold-out London run, Simon Stephens's tale of a brilliant young man suspected of killing his neighbor's dog stars another possibly brilliant young man, Juilliard grad Alexander Sharp.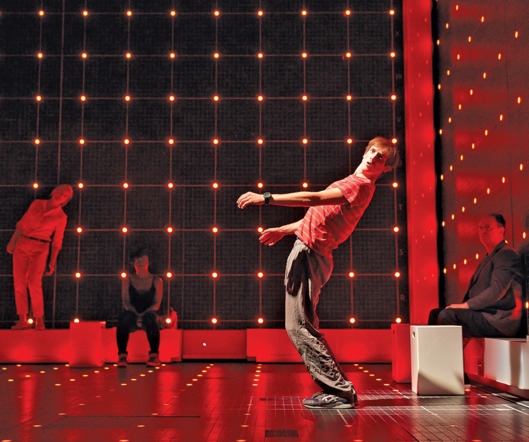 10/7
Not I/Footfalls/Rockaby
BAM Harvey Theater
Beckett's longtime friend Walter Asmus directs three of the playwright's one-woman shows; Not I famously features just the actress's mouth, seen suspended in darkness.
Shakespeare's Sonnets
BAM Howard Gilman Opera House
Mad genius Robert Wilson directs sung versions of 25 Shakespeare sonnets, with music by Rufus Wainwright, in styles ranging from German Minnesang to cabaret rock with the help of Brecht's own Berliner Ensemble.
10/9
It's Only a Play
Schoenfeld Theater, in previews Aug. 28
Bialystock and Bloom, reunited! Nathan Lane and Matthew Broderick get together again for Terrence McNally's story of theater-related anxiety.
10/10
Deliverance
59E59 Theaters
Godlight Theatre Company's adaptation of James Dickey's novel about a Georgia canoe trip gone horribly wrong.
10/12
While I Yet Live
Primary Stages
The charismatic heart of Kinky Boots, Billy Porter, takes on a new role as playwright in this story of a Pittsburgh childhood surrounded by powerful women.
10/13
Jacuzzi
Ars Nova
Hot Tub Play Machine! In the Debate Society's latest, a couple contemplate settling in permanently at a Colorado ski chalet.
10/14
Found
Atlantic Theater Company
Hunter Bell ([title of show]), Lee Overtree, and Eli Bolin's new musical, fashioned from the stories in real found notes and letters.
10/15
The Rite of Spring
Rose Theater
Inventive puppeteer Basil Twist reenvisions Stravinsky's swirling orchestral work as a "ballet without dancers." Part of the Lincoln Center White Light Festival.
10/16
4:48 Psychosis
St. Ann's Warehouse
Sarah Kane's last play, a visceral look at one woman on the edge, played in a tour-de-force turn by Polish actress Magdalena Cielecka.
On the Town
Lyric Theatre; in previews Sept. 20
It's a hell of a town for choreographer Josh Bergasse, who makes a comeback from Smash reimagining Jerome Robbins for this revival, with a charm-offensive cast led by Tony Yazbeck and New York City Ballet's Megan Fairchild.
10/17:
Lift
59E59 Theaters
Two co-workers meet for the first time while trapped in a skyscraper's elevator in Walter Mosley's drama.
10/19
The Belle of Amherst
Westside Theatre
Enter Emily Dickinson's 19th-­century Massachusetts home in William Luce's play, with Joely Richardson as the poet.
10/20
Brownsville Song (b-side for tray)
Claire Tow Theater
Kimber Lee's look at the aftermath of a 18-year-old's death.
10/22
The Fortress of Solitude
Public Theater
The intellectual theater nerd's dream, realized: Daniel Aukin directs this musical adaptation of Jonathan Lethem's 1970s Brooklyn coming-of-age novel, with a book by Itamar Moses and tunes by Bloody Bloody Andrew Jackson's Michael Friedman.
10/23
Angels in America
BAM Howard Gilman Opera House
Toneelgroep Amsterdam attacks Tony Kushner's two-part epic in a five-hour marathon. Super-­minimalist concept courtesy of director Ivo van Hove.
Disgraced
Lyceum Theatre; in previews Sept. 27
Hari Dhillon, Gretchen Mol, Karen Pittman, and Josh Radnor star in Ayad Akhtar's Pulitzer-winning exploration of religion and identity at a heated Upper East Side cocktail party.
10/26:
The Last Ship
Neil Simon Theater; in previews Sept. 30
A dream creative team, including director Joe Mantello and choreographer Steven Hoggett, joins up with Sting, who wrote this musical about the dying shipbuilding industry in his hometown.
10/28
A Distant Drum
Zankel Hall
Violinist Daniel Hope collaborates with his father, South African writer Christopher Hope, on this portrait of a man who left apartheid-era South Africa for '60s New York.
Father Comes Home From the Wars (Parts 1, 2, and 3)
Public Theater
A trio of plays in one night, following the dramatic arc of Hero, a slave during the Civil War, courtesy of Pulitzer winner (and Public favorite) Suzan-Lori Parks and artful director Jo Bonney.
10/29
Punk Rock
Lucille Lortel Theater
Playwright Simon Stephens channels his English-boarding-school teaching years in this look at hormonal British teens prepping for their A-levels.
Six Characters in Search of an Author
BAM Harvey Theater
Paris's Théâtre de la Ville's take on Pirandello's absurdist classic about a family of six characters who visit a theater troupe, claiming abandonment by the writer who created them and seeking a sense of completion.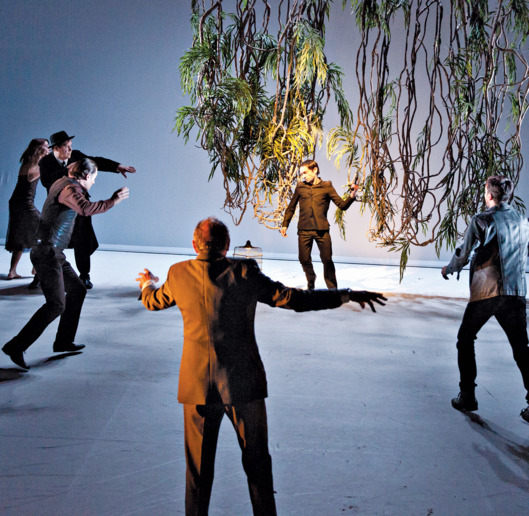 Lips Together, Teeth Apart
Second Stage
America Ferrera and Orange Is the New Black's lovable kooks Michael Chernus and Tracee Chimo take on Terrence McNally's story of two straight couples spending the Fourth of July on Fire Island.
10/30
The Real Thing
American Airlines Theater; in previews Oct. 2
Nearly 30 years later, a new production of Tom Stoppard's examination of what happens when art imitates life, with Ewan McGregor joining a trio of local theater pros: Maggie Gyllenhaal, Cynthia Nixon, and Josh Hamilton.
NOVEMBER
11/1
Tamburlaine, Parts I and II
Theater for a New Audience
Michael Boyd compresses into one (four-hour) evening both parts of Christopher Marlowe's ultrabloody Elizabethan epic, with the great John Douglas Thompson as the conqueror.
11/3
The Oldest Boy
Mitzi E. Newhouse Theater
The toddler of an American woman and Tibetan man may be the reincarnation of a renowned Buddhist scholar in Sarah Ruhl's latest, directed by Rebecca Taichman.
11/5
Show Boat
New York Philharmonic
"Ol' Man River" + full orchestra = chills. Vanessa Williams, Downton Abbey's Julian Ovenden, and A Gentleman's Guide to Love and Murder ingénue Lauren Worsham star.
Wiesenthal
Acorn Theater
Tom Dugan plays the "Jewish James Bond" who brought more than 1,000 Nazi war criminals to justice.
11/6
The Band Wagon
Encores! at New York City Center
Brian Stokes Mitchell leads this special event, based on the 1953 MGM movie about a down-on-his-luck Hollywood star trying for a Broadway comeback; Kathleen Marshall choreographs and directs, with a book by Douglas Carter Beane.
Sticks and Bones
The New Group
Director Scott Elliott revisits David Rabe's 1971 Best Play Tony winner, a black comedy about a family whose son returns from Vietnam; Bill Pullman and Holly Hunter play mom and dad.
Pitbulls
Rattlestick Playwrights Theater
Keith Josef Adkins's look at the pariah of a small black community in rural Appalachia, suspected of killing her neighbor's fight dog.
11/11
Lost Lake
NY City Center Stage I
David Auburn and Daniel Sullivan (Proof) reteam for this world premiere, with John Hawkes as a mysterious vacation-rental proprietor and Tracie Thoms as his tenant.
11/12
Grand Concourse
Playwrights Horizons
Human comedy in a Bronx soup kitchen, courtesy of Heidi Schreck, with the great Quincy Tyler Bernstine.
11/13
Tristan & Yseult
St. Ann's Warehouse
The latest dreamy theatrical work from Emma Rice and the Kneehigh players, reimagining the classic tragic tale, with live music.
11/16
Our Lady of Kibeho
Signature Theater
Michael Greif directs Katori Hall's story of a Rwandan village where a girl claims to have seen the Virgin Mary.
Major Barbara
Pearl Theatre Company
Shaw's beloved morality play about an altruistic Salvation Army major's moral dilemma.*
The River
Circle in the Square; in previews Oct. 31
Hugh Jackman takes a break from jazz hands, going dark with Jerusalem playwright Jez Butterworth as a reclusive fisherman involved in a woman's mysterious disappearance.
11/17
Side Show
St. James Theatre; in previews Oct. 28
Erin Davie and Emily Padgett are literally joined at the hip as the vaudevillian Hilton twins in Bill Condon's reimagining of the 1997 musical.
Straight White Men
Public Theater
White Male Privilege: The Play! Young Jean Lee looks at identity struggles in this family story starring Austin Pendleton.
11/18
By the Water
NY City Center–Stage II
Playwright Sharyn Rothstein's world premiere examines the aftermath of Hurricane Sandy on Staten Island.
11/19
Allegro
Classic Stage Company
John Doyle follows up his powerfully intimate Passion by resurrecting this rarely revived Rodgers and Hammerstein musical.
11/20
A Delicate Balance
Golden Theatre; in previews now
Pam McKinnon's able hand guides this latest Edward Albee revival, with Glenn Close, John Lithgow, Bob Balaban, and Martha Plimpton.
11/23
A Particle of Dread (Oedipus Variations)
Signature Theater
Sam Shepard's darkly modern take on the Oedipus tale, with a cast of Irish and American actors anchored by The Crying Game's Stephen Rea.
*This article appears in the August 25, 2014 issue of New York Magazine.
*This article has been updated to correct Major Barbara's plot synopsis.