Bon Iver Collaborated on a Mysterious Rap Album; Stream It Right Now
Astronautalis + Bon Iver's Justin Vernon and S. Carey = Jason Feathers.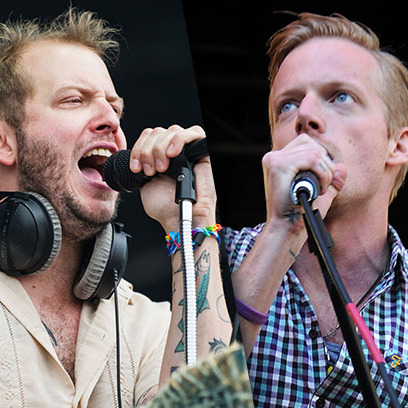 In 2012, Minneapolis rapper Astronautalis talked about a collaboration he was recording with Bon Iver frontman Justin Vernon. Two years later, it appears we are hearing the fruits of their partnership wrapped in a mysterious package. May we present you Jason Feathers, whose debut album, De Oro, premiered on Pitchfork this morning, with a press release that failed to name check either artist. Instead it makes note of four fictional characters: There is Creflo, the "red-chested god-bassed Southern rapper in a fancy white suit" (this is Astronautalis); Ephasis, the "heavily-seasoned guitar-crooning lost-cowboy" (this is Justin Vernon); Toothpick, the "a drummer-hype-piano-man all in one" (this is Bon Iver drummer and solo artist S. Carey); and "________," who "put it all together and played 'bass' amongst sequenced plugs and wires" (this is Gayngs mastermind Ryan Olson). The result is dark mixture of southern rap and southern rock/blues/soul traditions, all filtered through the unique talents of those four men. It kind of sounds like if Alien from Spring Breakers were to make an album. The album will be available digitally on August 19, with CDs coming in September, and vinyl later in the fall. Until then, you can and should listen to it hear. Below, read the press release, which thoroughly explains their mythology, including Toothpick's illustrious past as a high-school math teacher.
Just outside of Flori-bama there is an under-disclosed building frequented by a handful of outlaws and in-laws, a place where questions don't get answered and dreams don't usually come true, where passers-thru can find like-minded chartless characters to intermingle with; this place is known as De Oro. One evening Jason Feathers, a.k.a. Creflo, a red-chested god-bassed Southern rapper in a fancy white suit, found himself in an after-bar-impromptu-musical-round-up. There, he tangled with two flashily-clad cronies, one called Toothpick, a drummer-hype-piano-man all in one, and the other a heavily-seasoned guitar-crooning lost-cowboy that went by Ephasis. The house engineer that night, a white-haired man with ghostly features that the locals all called Opacity, captured all that went down. Later there was ________, who put it all together and played "bass" amongst sequenced plugs and wires.

De Oro is the record of this event and those that followed.

Who knows how long ago, but also probably pretty recently, Jason Feathers came to be. Four seedy characters happened to be in the right place at the right time: in the thickest of humidity one July evening, in a bar where Florida meets Alabama.

I guess you could say that Jason Feathers is the name of the "band," but it's also the alias that the M.C. Creflo chose for himself after the fact, going about as any washed-up and out-of-touch rapper would: proclaiming himself "Jason," "Jason Feathers" or simply "Feathers" as a means of reinventing and reigniting his failed career in hip-hop in this post digital-age (I bet if we dug hard enough we could find the old Creflo stuff – someone out there's gotta still have a copy on 'em that they picked up at one of his many shows at the Yacht Club way back). So it was Creflo who "formed" the group, given his past and subtle dapples in the music biz. But it never would have seen the light of day if not for the other three and their shared and coincidental love of rhinestones.

That fateful night, Toothpick, a former high school geometry teacher gone "bad," was the house band, showing off his dueling drum and piano skills while signin' so fiercely you couldn't help but listen. He played some friendly covers but mostly he cursed on the mic, experimenting with his own weird brand of melodic hype.

It began simply enough – Creflo, sparked by inspiration from watching Toothpick's antics, forced his way onto the stage. What should have been an invitation to be shunned took a swift turn for the best and the pair combined to form a melodious sound with sick rhymes and tricked out piano lines.

Propped up at the bar, Ephasis was merely an onlooker. Maybe he was feeling nostalgic for the spotlight, maybe he was just bored, either way it wasn't long before he too was up on stage with the others strummin' the guitar he always kept in the back room.

Not much is known of Ephasis, other than his love of whiskey and pills. He frequented this spot before lending his guitar and voice that night, but he only returned a few times after and then never again. While his whereabouts are still unknown, a few photos have surfaced since his sudden disappearance. Shrouded in sunglasses, in the shadow of his cowboy hat and perched on his favorite bar stool, the few who knew him all agree: Yes, that's Ephasis.

And then there was __________, who – as he does – discovered Creflo and the raw tracks that would eventually become the Feathers debut. After much careful precision and Opacity in piecing the tapes together, there emerged De Oro, which were the only words written on all of the tapes – in black ink on strips of dirty hockey tape. It can only be assumed that Creflo must have scribbled the words to serve as a working title for the sessions in the hopes that one day this music would be discovered and all would once again consider him, well … Gold.

You see, way back (we're talkin' '98 thru '01), Creflo was well known locally down south. He's now washed-up and out-of-touch. Since his rappin' days, he's gotten into some dark black market shit but has always carried that little torch of local fame he got with him, which kind of diluted his mind. He's not quite one of those dudes you see rapping to himself loudly on the sidewalk, but he's close. He's still got some cool left in him.

_______ somehow discovered Creflo and his little bit of cool and decided he had something. Whether the lure of that magical night at the bar down south is true or not, _____ saw something in Cref and helped him refine it. He's now nurturing him – as he does – to be a star. Creflo's here, he's around and loving every minute of this new found attention he's getting as Mr. Jason Feathers.

As for the others…

Toothpick's hanging out now that something real is happening. Creflo likes Tooth alright but knows to be careful around him; he's a tornado if pushed the wrong way. Toothpick left the Yacht Club and followed Creflo north to make a go at it so he wouldn't have to go back to crunching numbers in a classroom. He's taking names and working as a Sauce Master at a divvy Chinese restaurant to get by while waiting for the big roll out.

Ephasis is nowhere to be found but may soon emerge after the shit hits the fan, as he's always had that sort of lonely travelin' blues man thing about him. He could care less about fame but can't help singin' in front of a crowd that'll listen. This new found exposure he's about to receive with his pals here just may provoke more opportunity for his own songs to be heard. I guess we'll see…