Celebrities React to Robin Williams's Death, Remember the 'Lightning Storm of Comic Genius'
The comic touched everyone from Steven Spielberg to President Obama.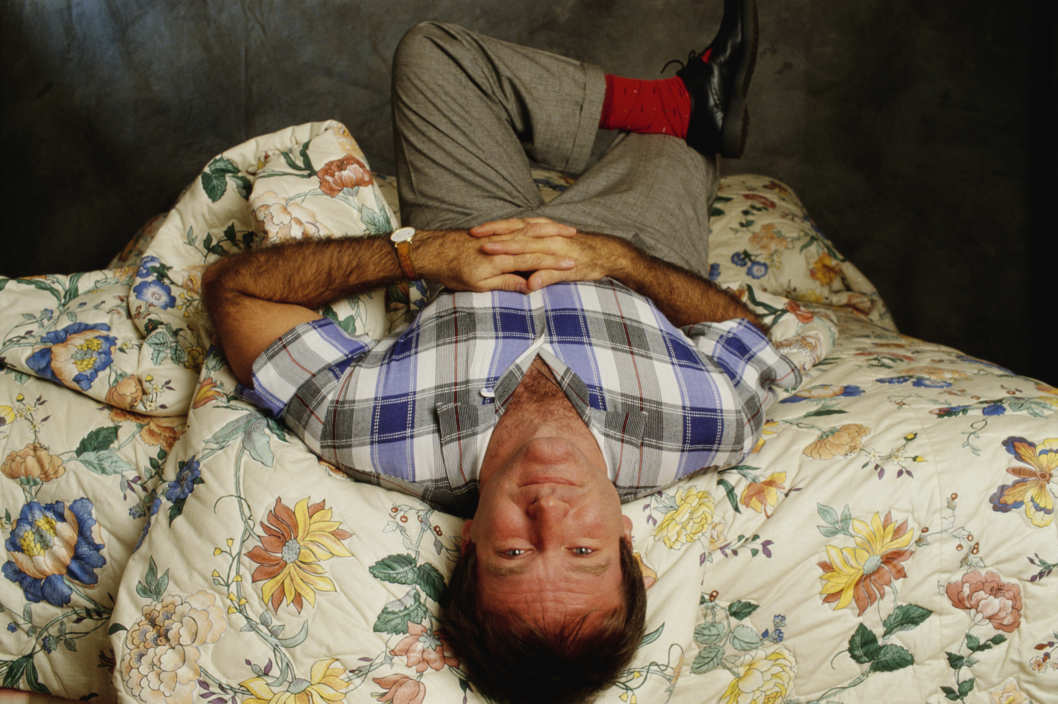 If there was any doubt about Robin Williams's impact, one need look no further than the massive outpouring of grief and love following the news of his death on Monday. From those who have followed Williams since he rose to fame on Mork & Mindy to millennials who know him mainly as Mrs. Doubtfire and the genie from Aladdin, he touched millions during a career that spanned five decades. Comedians including Steve Martin and Ellen DeGeneres flocked to Twitter to share remembrances of Williams and how he inspired them; even President Obama commented on his passing. Steven Spielberg, who worked with Williams on Hook and was a longtime friend, said, "Robin was a lightning storm of comic genius and our laughter was the thunder that sustained him. He was a pal and I can't believe he's gone." Here's how other stars remembered the comedian.
"I am completely and totally devastated. What more can be said?" — Pam Dawber, Williams Mork & Mindy co-star
"I saw him on stage the very first time he auditioned at the Improv and we have been friends ever since. It's a very sad day." — Jay Leno
"I've never known a sweeter, brighter, more considerate person than Robin. Robin's commitment as an artist to lifting our mood and making us happy is compared to none. He loved us all and we loved him back." — John Travolta
"Robin Williams was an airman, a doctor, a genie, a nanny, a president, a professor, a bangarang Peter Pan, and everything in between. But he was one of a kind. He arrived in our lives as an alien – but he ended up touching every element of the human spirit. He made us laugh. He made us cry. He gave his immeasurable talent freely and generously to those who needed it most – from our troops stationed abroad to the marginalized on our own streets. The Obama family offers our condolences to Robin's family, his friends, and everyone who found their voice and their verse thanks to Robin Williams." — President Obama
My Heart's broken. Robin was a beautiful, kind soul. Can't bear that he's gone. So incredibly sorry for his family.

— Minnie Driver (@driverminnie) August 11, 2014
I'm stunned! pic.twitter.com/X2RbDRyFxt

— Bill Cosby (@BillCosby) August 12, 2014
I am named after a character from a Robin Williams TV show when my parents still lived in Africa. He meant so much, to so many, so far away.

— Mindy Kaling (@mindykaling) August 12, 2014
A tweet cannot begin to describe the hugeness of Robin Williams heart and soul and talent. This is so sad. #RobinWilliams

— Ben Stiller (@RedHourBen) August 12, 2014
When I was 18 I got a job as an intern at Comic Relief just to be near him. A genius and a truly kind man who made the world a better place.

— Judd Apatow (@JuddApatow) August 12, 2014
Robin had a good heart. It was written all over his face. Irreplaceable. RIP.

— Michael McKean (@MJMcKean) August 11, 2014
Every time I hear a siren I still say "that's my ride." Thank you Robin Williams. I wish your ride had not arrived.

— John Hodgman (@hodgman) August 11, 2014
The first thing I ever wanted to be when I grew up was Robin Williams' inhabiting of Popeye. #RIPRobinWilliams

— John Mayer (@JohnMayer) August 12, 2014
How awesome a contribution Robin Williams made to the world, that millions of people (and I) are now feeling real, deep human loss. So sad.

— John Mayer (@JohnMayer) August 12, 2014
Genie, you're free. pic.twitter.com/WjA9QuuldD

— The Academy (@TheAcademy) August 12, 2014
Mr. Williams visited me the first day of filming The Parent Trap. I will never forget his kindness. What an enormous loss. My condolences.

— Lindsay Lohan (@lindsaylohan) August 11, 2014
I met this sweet, generous & brilliant man Robin Williams in 1991. Here we are with HIS idol Jonathan Winters. #RIP pic.twitter.com/ZI4QV5QyuL

— Kathy Griffin (@kathygriffin) August 11, 2014
Famously kind, ferociously funny, a genius and a gentle soul. What a loss. #RobinWilliams

— Michael J. Fox (@realmikefox) August 12, 2014
Thank you to the beautifully original + brave artist that is #RobinWilliams. You taught us how to stand on the edge, fearless, + shine.

— JARED LETO (@JaredLeto) August 11, 2014
My hero. My idol. My friend. I'm sick and shocked. Goodbye #RobinWilliams. You are now for the ages.

— Josh Gad (@joshgad) August 11, 2014
Just shared a moment of silence on the set for Robin Williams, a man who brought so much laughter, joy and healing to so many.

— Lena Dunham (@lenadunham) August 12, 2014
I cannot believe Robin Williams is gone; he was both a very famous & yet still underrated actor; whether Mork or Garp, a real comedy genius.

— edgarwright (@edgarwright) August 11, 2014
O Captain! My Captain! Rise up and hear the bells. Rise up, for you the flag is flung, for you the bugle trills.

— Anna Kendrick (@AnnaKendrick47) August 11, 2014
I can't believe my lovely friend is gone. My heart goes out to his wife and his beloved children. He brought us so much joy and laughter.

— Eric Idle (@EricIdle) August 11, 2014
On our wall. Very sad. #RIPRobinWilliams pic.twitter.com/hwVnQK1wVt

— Chris Meloni (@Chris_Meloni) August 11, 2014
"But doctor, I AM Pagliacci." That's the only way this makes sense. Can't stand thinking of him being that sad. #RIPRobinWilliams

— Patton Oswalt (@pattonoswalt) August 11, 2014
Robin Williams made the world a little bit better. RIP.

— Steve Carell (@SteveCarell) August 11, 2014
Robin Williams could not have been kinder or more generous when I worked with him in Flubber. My heart goes out to his family.

— Wil Wheaton (@wilw) August 11, 2014
Robin Williams was like no other ..To watch him create on the spot was a privilege to behold.. Robin you are an angel now !!! REST IN PEACE

— Henry Winkler (@hwinkler4real) August 11, 2014
Ah Robin, I'm so sorry the earth couldn't stay worthy of you. Hope happiness awaits you.

— jason alexander (@IJasonAlexander) August 11, 2014
I can't believe the news about Robin Williams. He gave so much to so many people. I'm heartbroken.

— Ellen DeGeneres (@TheEllenShow) August 11, 2014
There is no way Robin Williams could have seen himself the way everyone saw him. What terribly sad and frustrating news.

— Jim Norton (@JimNorton) August 11, 2014
My love to Robin and His Family. I am devastated!

— Edward James Olmos (@edwardjolmos) August 11, 2014
Mork from Ork: Rare evidence that aliens can be smart, clever, articulate & funny. Robin Williams, RIP

— Neil deGrasse Tyson (@neiltyson) August 11, 2014
Goodbye and God bless Robin Williams peace and love R

— Ringo Starr (@ringostarrmusic) August 11, 2014
I could not be more stunned by the loss of Robin Williams, mensch, great talent, acting partner, genuine soul.

— Steve Martin (@SteveMartinToGo) August 11, 2014
When I was a kid, my parents and I would watch Robin Williams VHS tapes until they wore out. Words cannot describe what a loss this is.

— Jay Mohr (@jaymohr37) August 11, 2014
Robin was a giant. One of the most colossal & enduring bodies of work ever. The world is heartsick tonight because he was just that great.

— Michael Chiklis (@MichaelChiklis) August 11, 2014
I'll miss you, Pahpoh. You were such a part of all of our lives. There will never be another you. A sad, sad day. #RobinWilliams

— Kevin Nealon (@kevin_nealon) August 11, 2014
Robin was as sweet a man as he was funny. If you're sad, please tell someone.

— Jimmy Kimmel (@jimmykimmel) August 11, 2014
RIP mr Williams - beyond great talent -such a kind and lovely person

— John Cusack (@johncusack) August 11, 2014
RIP @robinwilliams You were one of the very best that ever was. You were one of my heroes. #RobinWilliams

— Joel McHale (@joelmchale) August 11, 2014
I wore Mork suspenders all through 4th grade. Robin Williams was one of my first comedy heroes. RIP.

— Michael Showalter (@mshowalter) August 11, 2014
How I'll always remember the man who got GOOD WILL HUNTING made: http://t.co/q6XEHea4ls RIP RobinWilliams. Thank you, Oh Captain my Captain!

— KevinSmith (@ThatKevinSmith) August 11, 2014
Through all the sadness we owe it to Robin to remember how funny he was. That matters

— Penn Jillette (@pennjillette) August 11, 2014
I didn't know I could be so sad, angry, stunned and grateful at the same time. RIP Robin Williams. If you are in pain please seek help.

— Jim Gaffigan (@JimGaffigan) August 11, 2014
Robin Williams has died and I am very sad. From every comedian here at the Edinburgh Fringe Festival, we salute him & we say goodbye

— Eddie Izzard (@eddieizzard) August 11, 2014
We mourn the loss of our friend Robin Williams, who always made us laugh and smile. pic.twitter.com/UOY8LTjVRA

— Sesame Street (@sesamestreet) August 11, 2014
His heart was as big as his genius. So sad. Rest in Peace Robin Williams.

— bob saget (@bobsaget) August 11, 2014
I can't take the Robin Williams news. I've never cried over someone I've never met but I can't stop 😿😿😿😿

— Miley Ray Cyrus (@MileyCyrus) August 11, 2014
He was Sweet LOVELY,Man. He ran high voltage,Mind Always Going, It was who he was.I Know Well..Many X's from High There is Only Low.So Sad😥

— Cher (@cher) August 11, 2014