George Takei Is Always That Happy — Just Ask George Takei's Husband
The <em>Star Trek</em> actor and social-media star is the subject of the the new documentary <em>To Be Takei</em>.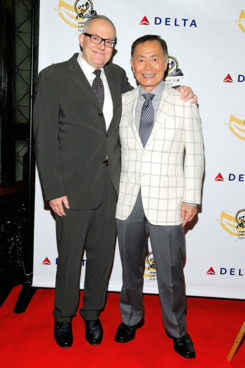 According to the person who knows him best, George Takei doesn't become the George Takei whose unique voice you know and love until he's had a cup of green tea. "When he wakes up in the morning, his voice is like this," says the actor's husband, Brad Takei, using a high-pitched chipmunk voice. "Then I give him some hot green-tea and he gets into the groove." Brad, who married George in 2008 and took his last name, was speaking with us last month in the Chart Room of the Queen Mary 2, the Cunard line's flagship ocean liner, while we waited for the "trans-Atlantic premiere" of To Be Takei, which opened in theaters last weekend. Though the documentary about the Star Trek alum's life is George-centric, his partner of 27 years plays a heavy part. After the screening, George joked, "He stole the show from me!"
The idea to host a press screening aboard the Queen Mary 2 prior to the cruise ship's departure for Southampton, England, came from Brad, which didn't surprise the film's director, Jennifer Kroot. "Brad and George both like exciting events," she tells me. "They like the idea of a classic Hollywood-y type of thing to do." Kroot explained that Brad is the logistical brains behind the duo, the one who manages the schedule, collects the appearance fees, and makes sure his 77-year-old husband gets where he needs to go. As revealed in To Be Takei, Brad is integral to the George Takei brand. "I'm on the big screen so that kind of throws me off balance a little bit," Brad says. "You're interested in talking to me right now, but generally, nobody would be interested in talking to me."
If George is the optimist, it is in part because Brad is the pessimist. "Brad's dealing with reality and George is fantasy," Kroot says. "Brad has a lot more realism in his life, and I think, as a result, George is going around being positive and optimistic." In the documentary, Brad is referred to as the Klingon, the one who's all business, the willing villain who does what needs to be done to keep everything humming. Earlier this year on the red carpet of the GLAAD Media Awards, Takei told me he would be at a loss without Brad: "He gives me my marching orders every morning, and I just click my heels and march off."
But this is still a movie centered on George Takei's remarkable life, beginning with his career-defining role as Sulu, the helmsman of the USS Enterprise in the original Star Trek, at a time when the only roles for Asian men were those of either simpering servants or Fu Manchu connivers. Younger generations rediscovered him as a vocal civil-rights activist (he came out in 2005), and as a social-media wizard able to rack up over 7.3 million Facebook followers. His videos cycle through our cyber consciousness: He (repeatedly) called a homophobic Arkansas school-board member a "douchebag," did a spoof of the first gay Bachelor with Jesse Tyler Ferguson, and tried out for the role of Spider-Man on Broadway. "He's a real beloved figure," Kroot says. "I think part of it is the honesty and sincere optimism he brings … I think somehow that must emanate from him."
I sit down with George and we gaze out onto the Statue of Liberty and the Freedom Tower. "There's Lady Liberty," he says. "What a beautiful view." We begin to discuss the politics of the day — Supreme Court decisions, Russia's anti-LGBT propaganda law, race in America — and one of his newest projects, Allegiance, a play based on his experiences in a World War II internment camp, which he hopes to bring to Broadway by the end of the year.
When Takei was just 5 years old, he and his family were rounded up from their home in Los Angeles and sent to an internment camp in the swamps of Arkansas, and then, later, one in northern California. But that wasn't the bad part. The bad part was going back home. "Our first home was on Skid Row and to us kids, it was absolutely harrowing," Takei says. "We were walking down the sidewalk once and this drunkard staggered in front of us and barfed right in front of us, and my baby sister, who was almost 5 by then, shrieked, "Mama! Let's go back home!" Meaning behind those barbed-wire fences."
It takes a remarkable reservoir of optimism, one that Takei attributes to living in the camps, to believe that humanity can be a force for good despite everything he's experienced. "I think intellectually, he could make that choice at one point in his life: Do I want to be pessimistic? Do I want to be optimistic?" Brad says. "He could have said the World War II internment camps would really screw me up; I would live a life being screwed up and being a basket case. [Instead,] he said, No, I'm going to achieve."
Eventually, Takei gets up, shakes my hand, and thanks me in his resonant baritone, summoned by the film's publicist. He dutifully lines up next to the poster for the movie with Brad just a touch away, as always. The poster is a stencil portrait of Takei in blue and black, looking up and away with the entire cosmos behind him. It's a remarkable double image — two confident, beaming smiles. A man who believes that good things can happen and will happen. "When George crosses a street in Manhattan, he never has to see if the signal is red or green," Brad says to me. "Because if he crosses the street, the street will be clear. He'll never get hit."