How Did Robyn Get to Be So Influential?
She seems to exist somewhere above the deadlines and expiration dates that too often govern the careers of other (especially female) pop stars.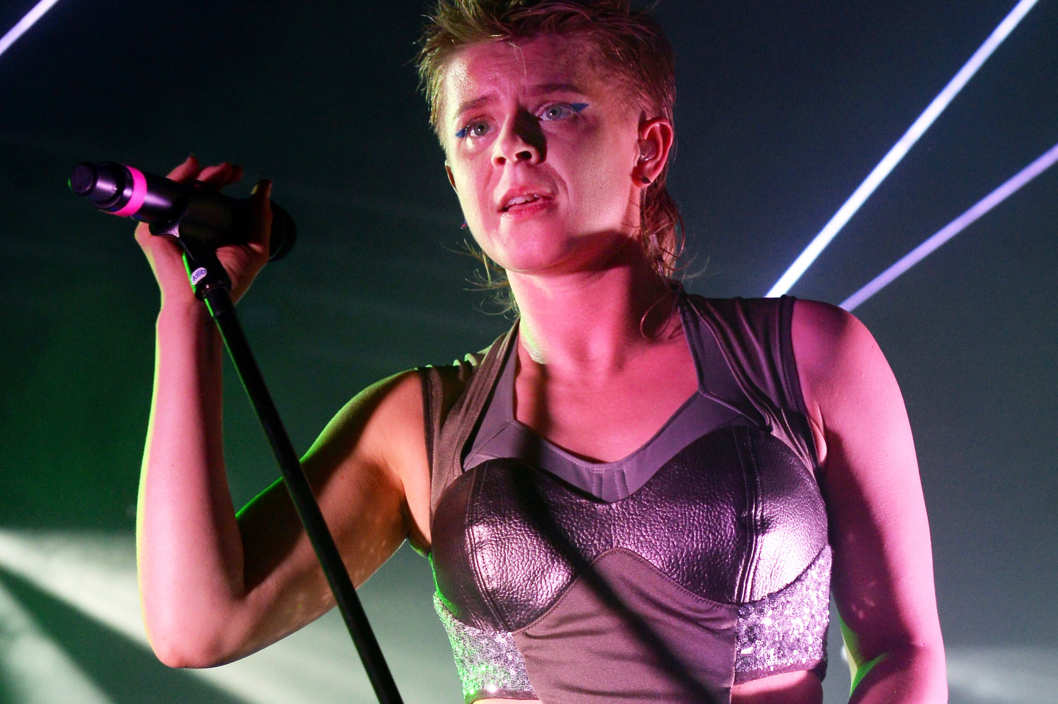 Last night, at Pier 97 on the Hudson River, I saw Robyn play a set that I can only describe as a triumphantly unhurried victory lap. Though she shared the bill with Norwegian electro duo Röyksopp — with whom she just released a solid EP, Do It Again — it was very clear who the audience was actually there to see. Moments before she came out, someone deep into the crowd raised one of those clawlike appendages that are supposed to help you take better selfies and waved around an iPhone set to a scrolling text program that screamed in an inelegant typeface, "ROBIN!!!!!!!!!"
Robyn's path to this sort of American adoration has been pretty interesting. She had her first Stateside hits in 1997  — "Do You Know What It Takes" and "Show Me Love," both off her bubblegum-soul debut Robyn Is Here — right on the cusp of the teen-pop boom that would give us the Backstreet Boys, NSync, and Britney Spears. (Both of her hits were co-written by Max Martin, and she eventually signed to Jive Records.) Then, from the U.S. perspective at least, she seemed to disappear for a while, though this was actually the result of a shitty distribution deal; her next two albums, 1999's My Truth and 2002's Don't Stop the Music, didn't see international release. In 2003, she cut ties with her label altogether and started her own, Konichiwa Records, to eventually release her groundbreaking electro-pop self-titled album. Particularly to U.S. audiences who had missed the steps between her debut and Robyn, the artistic transformation was startling; I talked with someone last night who said it took her years to realize that the Robyn who did "Konichiwa Bitches" was the same person who did "Show Me Love."
Before the show I was digging around for some old clips of '90s Robyn, and I stumbled on this 1997 performance from Nickelodeon's SNL-type sketch show All That. The video shows how very far she's come: Clad in her standard-issue Jive Records trench, she struggles to be heard over the backing track and occasionally warbles off-key. Unlike some of the more dated songs on Robyn Is Here, "Show Me Love" is still a banger, but here she never quite finds her footing in it. This Robyn is light years away from the one I saw last night, who commanded the crowd with an almost superhuman confidence. (See also: her 2011 SNL performances.) At the height of her Pier 97 set, right before the first chorus of "Dancing on My Own," she let the music drop out entirely, turned her back to the crowd, and wrapped her arms around herself like a middle-school class clown pretending to make out with someone. She held the pose for a good ten seconds longer than I thought she would; she was that confident she hadn't lost us. And of course, she hadn't.
Robyn takes her time. She seems to exist somewhere above the deadlines and expiration dates that too often govern the careers of other (especially female) pop stars. When she played SNL — a gig usually reserved for artists promoting a brand-new album — "Dancing on My Own" had been out for a solid year and a half. In some ways, four summers after its initial release, it feels like American pop is just now beginning to catch up to Body Talk: Ariana Grande's current hit "Break Free" is basically a Robyn song (and definitely the most Body Talk–indebted track Zedd has produced yet); one of the many phrases that Taylor Swift's "Shake It Off" lifts from the pop-cultural zeitgeist is "dancing on my own." Robyn worked her way toward this kind of influence on her own terms and at her own pace — not that she's showing any signs of slowing down. Last night she played at least two new songs, one of which was a driving, prismatic dance-floor anthem that seems like it'll be called "Set Me Free." She confirmed today that she's working on a new EP, and though she hasn't confirmed a release date yet, it's safe to say people will be ready whenever she decides to put it out. Somehow, improbably, almost two decades after her debut, it's still Robyn's time.