At Midnight, James Franco Called Us to Talk About Porn
He made a new movie about the subject called <em>Kink</em>.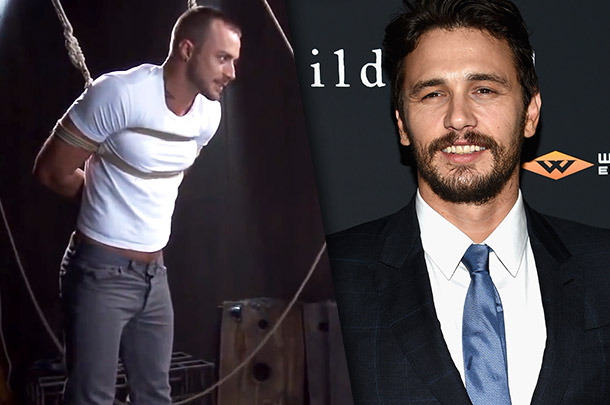 James Franco should be sleepy. It's after midnight, and he's just wrapped a long shoot on the indie Michael, where he stars as an ex-gay activist struggling with his sexuality. Most actors would spend their twilight hours heading to bed or studying the next day's script pages, but the idea of rest is almost anathema to a compulsive multitasker like Franco, who's instead taken that free time to call up Vulture to discuss pornography — specifically, the sadomasochistic kind.
Franco's latest project, Kink, is steeped in the subject: Directed by Christina Voros, a cinematographer who's shot many of Franco's low-budget indies, the movie is a behind-the-scenes look at Kink.com, a porn website that specializes in rough trade. In front of the camera, performers are flogged, punched, and humiliated, but Voros's camera captures the easygoing creative meetings where those scenes are concocted and the mundane reality of the directors negotiating with their performers on what to shoot. If there weren't electronic dildos just out of frame, you could almost mistake those interactions for the kind of on-set powwows that take place on a regular Hollywood film.
"That's what was initially so fascinating to me," says Franco, who produced Kink. "As somebody who works in filmmaking and works in this collaborative kind of way, it was so interesting to watch other people doing something that was so similar, even though it ends up with a completely different product."
The result is a documentary that, in Voros's words, "desensationalizes something that's inherently sensational."
"It's like when I started in film school," says Voros, "and suddenly all the mysteries were revealed of how shots were done and where lights were placed, and I knew there was always a guy standing in the corner holding a boom pole. Once you watch a porn and find yourself thinking, 'Oh, I wonder how many shoots that person has done this week?' it sort of changes your approach to the whole thing. I can safely say that before I made this movie, I never concerned myself with the craft of pornography, and now that's probably the first thing I think about."
All that craft, though, is in the pursuit of something all-too-real on Kink.com, where the traditional porn climax is essentially superseded by the long-term endurance of pain. In other words, these BDSM sex scenes are more about the journey than the destination, and no matter how much artifice goes into the onscreen situations, viewers are searching them for something real. "With this kind of material, the audience is very aware of authentic pain, and they can tell when people are faking it," says Franco. "Nobody would go to a porn to find good quote-unquote acting, but when they go to this kind of porn, in fact they want a certain kind of authenticity of feeling. And so, in some ways, these are choreographed like action scenes, but they're more like art pieces, endurance tests where these performers are actually feeling pain."
In that way, too, it's like Hollywood, where a performer like Franco will bring his own baggage to the roles he's cast in and the audience inherently knows that he's playing a part, yet the hope is that all that fakery can still produce something that feels authentic. The same year that Franco played himself on 30 Rock, for example, he was still able to disappear into his Oscar-nominated role in 127 Hours, and it's that film he thought of most while making Kink. In that movie, directed by Danny Boyle, Franco plays an outdoorsman who's trapped in a cave when an immovable boulder pins his arm; days later, after enduring starvation and dehydration, he must cut off that arm to survive. The film is kinetically edited, but Boyle shot most of it in long takes, and in one of them he pushed Franco further than he'd ever gone as an actor.
"He told me, 'In this take, I want you to try and pull your hand out of the boulder through brute force,'" recalls Franco. "'Do everything you can — smash yourself into the wall, smash into the boulder — but obviously, you won't get your hand out, and don't stop until I say cut.' I was like, 'Well, I'm really gonna get bruised if I do that.' And he nodded and was like, yup."

The take lasted 21 minutes, and Franco thrashed, wriggled, and hurled himself into the wall until he was physically depleted. "That was real, you know what I mean?" said Franco. "It was no longer an actor playing exhausted or playing hurt — that was all real physical struggle. There was a different kind of authenticity there, and I guess that was the closest I felt I'd ever get to experiencing real pain for a performance. And that's what these performers at Kink are doing every single time."
Some of the most poignant scenes in Kink come when the performers talk about the estranged families they've left behind in order to go into this line of work, and indeed, Voros confesses to wondering how the people in her life will react to her film, too. "I'm doing a project on young cowgirls right now that I'm not completely cast for," she says, "so the thought does go through my mind that potentially, the first thing their parents may come across when they Google me is this film." But Franco isn't fazed by the subject matter; in fact, it's only the latest project in a career that has seemed preoccupied with sexuality, whether it's in an indie like The Broken Tower that finds Franco engaging in onscreen fellatio, or his Cruising-inspired documentary Interior.Leather Bar., or even his current project Michael, where Franco shares several intimate encounters with actors like Zachary Quinto, Charlie Carver, and Avan Jogia, including a threesome.

"Those projects have certainly helped break down most of my inhibitions, but the issue becomes that I'm a public person in a different way than most of the performers in Kink," says Franco. "As a performer, I feel very free — I feel like, 'Ah, I could do whatever!' — but I still need to be careful about how what I do is presented. Even if I have no personal inhibitions, I'm still aware of the effects of my actions."
That's how Franco has managed the unlikely task of juggling a career that includes big-budget studio films (like this winter's The Interview, where he stars with Seth Rogen) and smaller, niche works like Kink, which feature onscreen erections and pussy slaps. "There are many different kinds of things I'm involved in, so when I do something in one realm, it has repercussions in another sphere," Franco admits. "Sometimes I make a misstep and I have to hear about it from every outlet — certainly Vulture."
But when you listen to Franco as he discusses sexuality, his sometimes-sleepy voice now sharp and focused and passionate, even at this late hour, you know that he won't be dissuaded. "The main thing that guides me is that I only try to work on things that I believe in and that interest me, and navigating that is the tricky part," he says, preparing to hang up and move on to the next project. "Not one of them has toppled the rest down, so I'm very grateful for that."