Watch Dave Chappelle's Glorious Return to Hartford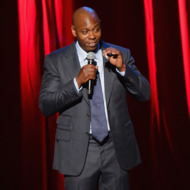 A year ago, Dave Chappelle was heckled off the stage in Hartford, Connecticut, during his Oddball Comedy & Curiosity Festival tour. (Soon after, he called a Chicago audience "young, white alcoholics" and  joked that he hoped a nuclear bomb fell on the city.) But on Saturday night, after finishing up his own set in Hartford, Louis C.K. announced that Chappelle would come out for a surprise performance. After last year's incident, some of the audience members thought it was a joke, but — lo! — Chappelle appeared to raucous applause, prompting him to say, "This city is schizophrenic."
He told them, "I swear I thought you would have booed me the minute I came out." After apologizing for his reaction last year, he did a set on the joys of having sex with older women, getting into a fight with a lesbian, and the difference between weed girls and coke girls. What a difference a year makes.
Watch the entire set below:
Photo: Mike Coppola/2014 Getty Images