The 1994–95 TV Season's New Shows, Graded by Their Theme Songs
From <em>Muscle</em> to <em>My So-Called Life</em>, and everything in between.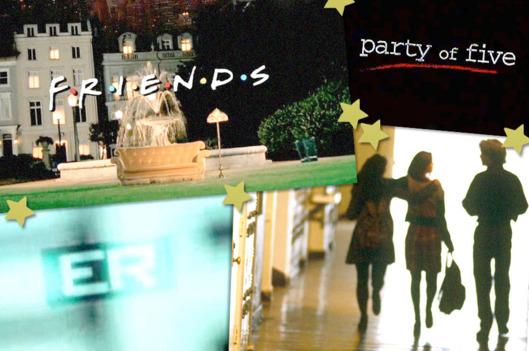 It's day two of our survey of the hugely influential 1994–95 network-television season, during which the likes of newbies Friends, ER, and My So-Called Life hobnobbed with returning future classics like Seinfeld, The Simpsons, and The X-Files. Yesterday we counted down the season's 100 best episodes and checked back in on the bananas fifth season of Fox's Beverly Hills, 90210, and we just presented an oral history of the first season of Party of Five; later today, we'll be revisiting Melrose Place with the help of the show's writers. Up now: a tour of the season's new programs through their theme songs, with your host, Vulture columnist Dave Holmes.
The 1994–95 network television season was the middle of the end of the TV-theme-song era, as the major networks were squeezing more advertising into each television hour. But if that era had to end, it went out on a high note: This season gave us some of our all-time best theme music, and then also some other stuff that you'll really need to see to believe. Come with me as I revisit the openings to each network show debuting during the 1994–95 season (or at least the ones I could find on YouTube). I've broken them down into their major categories, for your convenience; as ever, I'll be there for you.
THE ONES THAT DON'T QUITE HAVE TUNES BUT PLAY OVER OUT-OF-FOCUS, OVERSATURATED, OCCASIONALLY BLACK-AND-WHITE CREDITS SEQUENCES
Muscle (The WB)
This soap-opera parody was set in a gym, starred Dan Gauthier of Teen Witch, and was produced by Paul Junger Witt and Tony Thomas, who really should have known better. It was the last of the shows on the brand-new WB's one night of programming, and the first one to be cancelled. The opening music, which sounds like a Body by Jake videotape having rough sex with the Melrose Place theme song, may be part of the reason why. D-
Double Rush (CBS)
And then there's this David Arquette/Adam Goldberg/Robert Pastorelli bike-messenger vehicle, whose theme song is the very sound of the Lollapalooza generation being pandered to. If you can make it through — and it's okay if you can't, because the lead instruments are bicycle gears, car horns, and the inside of your own head when you're getting a gum-and-root scaling — you will hear Adam Goldberg's character excuse his tardiness thusly: "I'm a member of Generation X. I mean, if Drew Barrymore was your leader, would you be in a big hurry to get on with your life?" Jesus. No wonder we were so blasé. D
Extreme (ABC)
Kids, in the mid-'90s, everything was extreme. Diet soda was extreme. Nachos were extreme. Even Andre Agassi got in on it. (Incidentally, it is now very easy for me to picture Andre Agassi on meth.) It was really only a matter of time until a network cashed in and set a drama in the high-stakes world of rock climbing or whatever; the surprise was that the network who did it was the usually moderate ABC, and that it gave Extreme the plum post–Super Bowl slot in 1995. The show didn't last, despite a cast that included a pre–Modern Family Julie Bowen and a pre-90210 Cameron Bancroft, one of the two most beautiful Camerons of the 1994–95 television season. B-
ER (NBC)
ER began winning Emmys pretty much right away, and pretty much right away I started feeling bad for the Emmy orchestra, who had to learn and play this non-song over and over. For being indistinct, it is still oddly evocative; it is the sound of bracing yourself for bad news. B+
THE ONES THAT ARE PRETTY MUCH JUST BEATS AND SCRATCHING
The Parent 'Hood (The WB)
Listen, it's hard not to root for Robert Townsend, but this is weak sauce right here. I give it a passing grade, but only for the grandma character's radioactive groceries at 5:58. C-
House of Buggin' (Fox)
This show served as a bridge between Fox's In Living Color era and the dawn of Mad TV, and it's hard to pinpoint the 1994-est element of its credits sequence. Is it the baggy jeans? Is it the thing John Leguizamo does with his head at :17? Is it the fact that the show is called House of Buggin'? Hard to say. I'd better watch it 20 more times. B+
The Wayans Bros. (The WB)
A snippet of A Tribe Called Quest's "Electric Relaxation" is always welcome, even on a sitcom that would spawn White Chicks and Little Man. A- 
THE ONES THAT SOUND LIKE COMMERCIALS YOU'D SEE ON THE ROBIN BYRD SHOW
Models, Inc (Fox)
This Melrose Place spinoff starred Linda Grey's constant, awkward look of steely determination and Cameron Daddo, one of the most beautiful Daddos of the 1994–95 television season. I don't remember much about this show, but I do remember about 95 percent of the review headlines being "Models Stink." This theme music is Enigma minus the monks, and it compels me to buy Astroglide. C-
M.A.N.T.I.S. (Fox)
Are we sure this was on Fox? Because these are some Silk Stalkings production values. We are on some Acapulco H.E.A.T. right here. This is giving me straight Pensacola: Wings of Gold. I am not at all complaining. B
New York Undercover (Fox)
While the media paid attention to NBC's Must-See TV line-up, the black audience stuck with Fox on Thursday nights; the three highest-rated shows among black households all aired consecutively there: Martin, Living Single, and this Dick Wolf cop drama. Its theme song is definitely more Cleveland Wine Bar Undercover, but again: That's one of my highest compliments. A-
THE JAZZY ONES
The Cosby Mysteries (NBC)
I forgot that this existed. I never knew it starred Mos Def, under the name Dante Beze. I might have known Rita Moreno would be involved. B+
Dream On (Fox)
Now, technically, HBO's Dream On did not debut in the 1994–95 television season, Fox just started airing sanitized reruns in its primetime schedule that year. But I'm including it because it's pleasing to the ear, and because Brian Benben is one of the era's most slept-on dreamboats. He finefine. A-
NewsRadio (NBC)
This show was pretty much perfect, right down to the fact that it was always underappreciated. This music is the sound of beautifully written comedy, and it puts me in a good mood just to hear it. Am I going to become one of these people who puts TV theme songs on his iPod? I'm not ruling it out. A
THE WHOLESOME ONES
McKenna (ABC)
Curiously, this is one of the season's three new shows that was set around a wilderness outfitting business. Could this have been a reaction to the era's extremeness? Who cares; this show features a pre–Party of Five Jennifer Love Hewitt, and its theme song sounds like a commercial for the whitest bread. D+
High Sierra Search and Rescue (ABC)
High Sierra Search and Rescue stars E.T.'s Dee Wallace Stone, a young Jason Lewis, the LaVelda Fann, and Robert Conrad as Tooter Campbell. Was that sentence as enjoyable to read as it was to type? C-
Due South (CBS)
I watched the hell out of Due South, CBS's Canadian-Mountie-in-Chicago crime-dramedy. It was actually a very clever, very sweet show with a resolutely virtuous hero, which I needed after having been let down by Andrew Shue on Melrose Place one too many times. The theme song highlights the show's inherent sweetness and places it unmistakably in the mid-'90s; one can imagine Paula Cole's voice breaking through at any moment. A
THE ONES THE STARS SANG
Unhappily Ever After (The WB)
Oh, hey, did you want to see a stuffed bunny sing "Hit the Road, Jack" in a credits sequence featuring Nikki Reed, Kevin Connolly, and the second-oldest brother from Malcolm in the Middle? Well, here it is, anyway. C-
Something Wilder (NBC)
Ol' Gene takes a swing at the '30s standard "You Brought a New Kind of Love to Me," and if the results are sub–"Pure Imagination," one cannot help but to be charmed. One is also not compelled to watch. B-
Touched by an Angel (CBS)
Della Reese's "Walk With You" is a soulless gospel number, which actually kind of makes it the perfect theme song for Touched by an Angel. B
Cybill (CBS)
Quick and crisp, and a startling reminder that there was no AutoTune in 1994. B+
THE ONES THAT INDICATE THE SHOWRUNNER MIGHT HAVE BEEN A TOUCH TOO OPTIMISTIC
Under Suspicion (CBS)
Man, CBS thought it had something special here. Those stark graphics! That miniseries-style self-importance! Those Foley-artist ripping sounds! This feels like an airport bookstore crime novel come to life. No idea what this show was, though. D+
Under One Roof (CBS)
One of the most important jobs of a TV theme song is to convey theme; you hear a generic hip-hop beat and you know you're watching a broad comedy, you hear strings and you think adventure, you hear icy W Hotel smooth jazz and you know a character named Kyle is going to take his shirt off. The theme for Under One Roof, though joyous, gives you no clue what's coming. It goes nowhere and takes its sweet time getting there; by the time we see James Earl Jones (as "Neb"), we're reaching for TV Guide. (This is not to be confused with the theme song for Flavor Flav's syndicated 2008 sitcom of the same name, whose theme song sets the table a little too perfectly.) C
Get Smart (Fox)
Fox got smart with the theme song for this one, simply updating the original show's classic theme. Unfortunately, the obtrusive laugh track and the subtle comic stylings of Andy Dick did not bring the viewers in. C+
Marker (UPN)
I have no idea what this show was, but its theme music sounds like it was made by Dick Dale's underachieving grandson, and Richard Greico's eyebrows are exquisite. Well done. A-
THE MAJESTIC ONES
Star Trek: Voyager (UPN)
Listless and boring, but at least it's nearly two minutes long. D
Chicago Hope (CBS)
Visually, a virtual carbon-copy of ER's credit sequence, but the music is pure CBS at its old-people-wooing best. It's forgettable, but big ups to the Tiffany network for borrowing — in this show's Thomas Gibson and Due South's Paul Gross — two of the best elements of the Tales of the City miniseries. C
Fortune Hunter (Fox)
Are we absolutely sure this was on Fox? Because these are some Viper production values. We are on some Thunder in Paradise right here. This is giving me straight Renegade. Again, these things make me feel warm inside. B-
Earth 2 (NBC)
This theme song is straight Spielberg, energizing in a way the show never was, even with peak-hotness Antonio Sabato Jr. in the cast. Incidentally, have you seen our planet's numbers lately? There is no way we're getting a sequel. B
THE COZY, HOMESPUN ONES
Hardball (Fox)
A young Joe Rogan and a pre-L&O Dann Florek! A terrifying mascot who is always in character, and Rose Marie as a fictionalized Marge Schott! Hardball had everything you didn't know you didn't want, plus a theme song spat right out of the sitcom-for-men music generator. Bo-ring. C-
Hope and Gloria (NBC)
There is some very Lilith Fair harmonizing going on in this song, and then finger-snapping that goes on just long enough to make it legitimately creepy. The presence of Alan Thicke, as always, only makes it more so. B-
The Boys Are Back (CBS)
Peasant dresses! Not one, not two, but three wisecracking children! George Newbern! A theme song that sounds like a Deep Blue Something instrumental! Boy, The Boys Are Back packs a lot of 1994 into one credits sequence. I think I'm in love. A
THE ONES I COULDN'T FIND, BUT THERE ARE PROMOS ON YOUTUBE AND WILL YOU LOOK AT THEM, PLEASE
Pig Sty (UPN)
With Richard Jeni's Platypus Man, this show comprised UPN's "Party Animal Monday." Even the announcer sounds embarrassed. D
The Watcher (UPN)
Sir Mix-a-Lot hosted a crime anthology series on UPN. He was like the Crypt Keeper, but with more butt talk. D
Wild Oats (Fox)
This is a promo for the whole Fox primetime lineup, including Wild Oats (featuring a young Paul Rudd!), and it is set to a song called "Fox Is Kickin' It." We have achieved peak '90s. Stretch out and enjoy it. And then watch a promo for the actual series and realize that no one involved with Wild Oats has ever been accused of kickin' it. A
(Also seemingly missing without a trace: ABC's Blue Skies, Me and the Boys, and A Whole New Ballgame; NBC's Madman of the People, Amazing Grace, and Sweet Justice; and CBS's The George Wendt Show, The Wright Verdicts, The 5 Mrs. Buchanans, and Daddy's Girls.)
THE ONES THAT ARE BARELY THERE
Women of the House (CBS)
Ten seconds of piano! C
All-American Girl (ABC)
Nine seconds of electric guitar! C
The Martin Short Show (NBC)
Six seconds of Hammond organ! C
The Office (CBS)
Five seconds of horns! C
THE CLASSICS
On Our Own (ABC)
Okay, I don't remember this show, and neither do you. But its theme song is pure, uncut TGIF goodness, and the fact that On Our Own came and went means that none of us had time to get sick of it. And I know this has nothing to do with the song itself, but I love it when families like the Smolletts commit to alliterating their kids' names and then immediately run out of ideas. I mean: Jussie? B+
Party of Five (Fox)
Points must be deducted for "everybody one, everybody two, everybody three"; I would imagine each BoDean has lost a substantial amount of sleep over that one. But this song perfectly encapsulates the peppy, never-say-die-because-our-parents-already-did spirit of the Salinger kids, and if it did not hint at the Julia-abusing, Bailey-intervening, Scott Bairstow–employing times that lay ahead, all the better. Fun fact: Even if they hadn't rapidly aged the character, baby Owen would be of legal drinking age this year. A-
Friends (NBC)
Okay, so Friends premiered in September 1994, when I was three months into my own post-collegiate life in New York City. I would gather with my own tight-knit group of friends each Thursday night to watch this show, and I am not going to lie to you: We would all clap four times at the appropriate moment in the song. "I'll Be There for You" is a catchy tune in its own right, the rare TV theme that became a real-life hit song, and something that I hope is paying the Rembrandts fat residual checks every quarter, because God knows they've earned them. (Really, really, really: Listen to those first two Rembrandts albums — they are pop perfection.) While Friends fluctuated in quality and the stars became monstrously overexposed, the song sounded as good in the last episode as it did in the first. A
My So-Called Life (ABC)
But only one of these songs achieves both perfection and perfect 1994-ness. The theme music to the late, much-lamented My So-Called Life has it all: It avoids a hummable tune like the ER theme, it sets a mood like the best nighttime serials, and its "Go, now, go!" perfectly captures the thrill of being 14, sneaking out of your bedroom window, and trying on a brand-new identity. It stops you for a moment and makes you wistful for what might have been. And if you're me, it makes you want to plop down on the couch and watch the whole thing for the 15th time. One of the best ever. A+