23 Jump Street May Be on the Way
No word yet on whether Phil Lord and Chris Miller will be back to direct.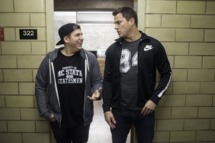 Deadline reports that Sony is working on a followup to their smash hits 21 and 22 Jump Street titled — you guessed it! — 23 Jump Street. While the 22 Jump Street credit sequence made it seem like the filmmakers thought the idea of another sequel was ridiculous, the movie's $320 million gross clearly nudged them in the other direction. Phil Lord and Chris Miller, who helmed the previous iterations, have signed on to produce, but no word yet on whether they'll be back to direct. Tatum and Hill's involvement is also unknown. Anyway, if things keep going at this rate, it looks like 34 Jump Street: Return of the Ghost and 43 Jump Street: Mariachi School might not be such far-fetched possibilities after all.