The 20 Best Albums of 2014 (So Far)
Lana Del Rey! Lykke Li! Aphex Twin!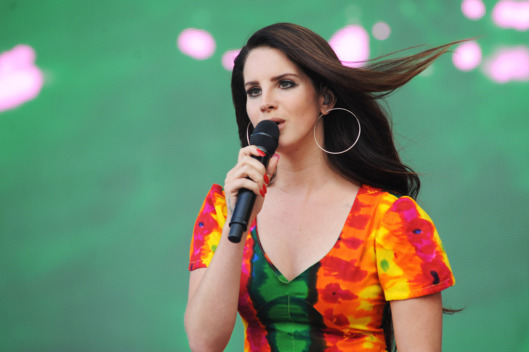 The fourth quarter of the year is almost upon us — and for pop music, that means blockbuster season. We know a few things for sure (Taylor Swift, Nicki Minaj, Foo Fighters, Lil Wayne, and One Direction all have albums on the way), but even this late in the year, some of the biggest potential releases of 2014 are still just rumblings in the rumor mill (Kanye West and Kendrick Lamar both say they're at least trying to put new records out in 2014, and then there's always the possibility that someone could pull a Beyoncé …). Because so many marquee names have waited until the end of this year to put their records out, it can feel like 2014 has been pretty uneventful so far. But I'd rather see that as an opportunity to dig a little deeper: As I start to think about the end of the year, the lack of big releases has given me time to focus on some lesser-known names. Here are my 20 favorite albums of the year so far — I hope you'll come away with some new recommendations.
Lana Del Rey, Ultraviolence: Pop's most elusive chanteuse finally perfects the American fever-dream aesthetic on her gloriously bizarre sophomore LP. "Get a little bit of bourbon in ya, get a little bit suburban, then go crazy," the queen commands. Arguably the hangover record of the century so far.
The Hotelier, Home, Like NoPlace Is There: If you're allergic to the word emo, that's your loss — you're missing out on one of the best rock albums of the year. (And anyway, this Worcester, Massachusetts, band self-identifies as "anti-pop anarcho-punk," so there.) Front man Christian Holden shouts himself hoarse with lyrical tales of disaffection, self-loathing, and the occasional tragedy. With album highlight "Your Deep Rest," they dethrone Saves the Day for the title of Best Rock Song About a Funeral: "The tradition of closure nearly felt impossible."
FKA twigs, LP1: Twitchy, breathy, cyborg R&B from one of the year's most original new talents, London-based artist Tahliah Barnett. I sometimes wonder whatever happened to the baby that was sampled in Aaliyah's "Are You That Somebody." I sometimes imagine she grew up to be FKA twigs.
Frankie Cosmos, Zentropy: Following scores of charmingly unpolished Bandcamp demos (sample title: much ado about fucking), Zentropy is the first "proper" album from prolific, precocious, fiercely witty New York bedroom-popper Greta Kline. Imagine pop music made by a gently self-deprecating Peanuts character wearing a Modern Lovers T-shirt.
Young Thug and Bloody Jay, Black Portland: It's been a slow year for the polished, high-concept Big Rap Album — all the more reason to celebrate the artists thriving in the looser form of the mixtape. Time will tell if rising Atlanta weirdo Young Thug can channel his considerable charisma into a higher-profile release, but for now, Black Portland is a perfect showcase of his slurry, post-Future sound. Even Nicki Minaj couldn't resist remixing Black Portland's undeniable "Danny Glover."
Jenny Lewis, The Voyager: Former Rilo Kiley front woman/patron saint of sad teenage girls Jenny Lewis comes back with an album full of sun-drenched, gimlet-eyed Grown-Ass Woman jams. Tales of open relationships, biological clocks, and disappointing Parisian threesomes wrought in such vivid detail that they'd feel more like short stories than songs if the melodies weren't so damn catchy.
Todd Terje, It's Album Time!: The title! Those Pink Panther–esque illustrations! That mustache! If I had to describe Norwegian disco producer Todd Terje's vibe to the uninitiated, I'd go with "unapologetically, transcendently tacky." That also means it is one of the most fun records you'll hear all year. Bonus: Bryan Ferry makes a cameo to sing a lovely and elegiac version of the Robert Palmer song "Johnny & Mary."
A Sunny Day in Glasgow, Sea When Absent: Woozy, exuberant, disorientingly hooky dream-pop from a criminally underrated Philly-based collective. Sounds like a glee club covering My Bloody Valentine.
Spoon, They Want My Soul: Spoon have been dependably putting out great records for almost two decades now, but they somehow manage to find fresh life in their sound for Album No. 8. I will chalk it all up to the hypnotic groove of "Outlier" and its great, puzzlingly belated Zach Braff zing: "And I remember when you walked out of Garden State / Because you had taste." Your move, Shins.
Perfect Pussy, Say Yes to Love: Alright, say the name out loud a couple times … yep, just let it out. We're good? Cool. This album is pure fire — like a hardcore LP artfully scuffed by members of Sonic Youth. Lead singer Meredith Graves's ecstatic shouts do battle with squalling guitars, and the result is equal parts pummeling and purifying.
Angel Olsen, Burn Your Fire for No Witness: Missouri-born folkie who croons like the ghost of Roy Orbison and finds a punchy silver lining in even the most melancholy confessions. "Are you lonely, too?" she asks. "High-five! So am I!"
Ariana Grande, My Everything: This is the part where Baby Mariah breaks free of her tween-star past, enlists some unexpected collaborators, and begins to show us who she really … are. So far, the best Big Pop Album of the (admittedly very slow) year.
Perfume Genius, Too Bright: Seattle-based Mike Hadreas's third album as Perfume Genius is an achievement in finely controlled intensity. Muted but never slight, it's more epic than records double its length and more punk than music ten times as loud.
YG, My Krazy Life: The star-studded proper debut from Compton rapper YG is a showcase not only for his densely psychological brand of storytelling, but also for the light touch of producer of the moment DJ Mustard. When YG plays the yin to Kendrick Lamar's yang on album cut "Really Be (Smokin N Drinkin)," it's a perfectly framed snapshot of West Coast hip-hop's recent renaissance.
Parquet Courts, Sunbathing Animal: One of the best young rock bands in New York move past Stephen Malkmus and onto worshipping Highway 61–era Dylan, make their best record yet.
St. Vincent, St. Vincent: Guitar sorcerer Annie Clark's star-making fourth album as St. Vincent is catchy, corrosive, and — as her cult-leader stare on the cover attests — menacingly poised. Counterbalancing the rabid bite of tracks like "Birth in Reverse" and "Bring Me Your Loves" are some of the loveliest ballads Clark's ever written, like "Prince Johnny" and a poignant ode to her mom, "I Prefer Your Love."
Aphex Twin, Syro: When British electronic-music pioneer Richard D. James announced his first album in 13 years under the name Aphex Twin, Syro did not exactly sound like it was going to be the feel-good hit of the fall: Promotional information was released in coded messages on the deep web, and its songs were titled things like "mini pops 67 [120.2][source field mix]" and "CIRCLONT6A [141.98]." Never judge an album by its viral-marketing rollout, though: Syro is a hypnotic, inventive, and — above all things — inviting listen, the kind of album that might bring a whole new generation of electronic-music fans to the guy who made Skrillex's favorite song of all time.
Sharon Van Etten, Are We There: Every song on singer/songwriter Sharon Van Etten's fourth album is quietly devastating, but nothing on Are We There (or any other album this year) will wreck you quite like breakup burn-note "Your Love Is Killing Me." "Break my legs so I won't walk to you," she sings, "Cut my tongue so I can't talk to you." Full of hard truths and swaggering grit, it's the most powerful thing she's put out yet.
Bitchin Bajas, Bitchin Bajas: "Bitchin Bajas" might sound like the name of a band that features a Hacky Sack player instead of a drummer and Matthew McConaughey on naked bongos, but what we have here is something even more chill: chiming, celestial ambient music carefully crafted by a couple of dudes from Chicago. One of those records that slows times and quells nerves. Put it on when you need to zone out and watch the ceiling transform into your own private cosmos.
Lykke Li, I Never Learn: Swedish sad-pop singer Lykke Li (who recently parachuted into half a billion iTunes libraries, thanks to her cameo on U2's Songs of Innocence) triumphs over her demons with these songs of heartbreak, loneliness, and redemption. Lushly melancholy and cavernously huge, I Never Learn sort of sounds like Nico trying to remake the Cure's Disintegration. Mascara tears guaranteed.