Downton Abbey's Elizabeth McGovern Is Going on Tour
With her folk-rock band, Sadie and the Hotheads.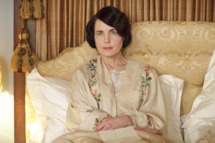 Elizabeth McGovern — aka Downton Abbey's Cora Crawley — will be taking a break from estate life, embarking on a 20-date U.S. tour with her seven-piece folk-rock band, Sadie and the Hotheads, in which she's the lead singer. "It's a slightly funny experience for fans of the show to come hear the music because it's such a different world to the show itself," McGovern told the Associated Press on Sunday. "When we first started touring there would be a lot of people carrying Downtown Abbey books ... and I could see a look of surprise on their faces because it isn't what you expect. I mean it's not a classical quartet of violins." Suffice it to say the Dowager Countess would not approve.